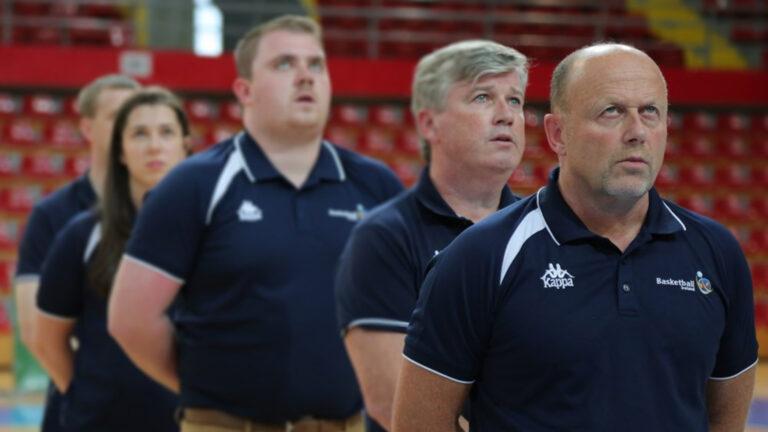 Nov 26 2021
Final panel for U16 girls selected by head coach Andy Gill
Head coach for the Ireland U16 girls team, Andy Gill, has made his final panel selection for 21/22. The panel is made up of 29 players, with three players having been born in 2007, the rest born in 2006. There are five representatives each for Liffey Celtics and Meteors on the panel, the highest for any of the clubs represented.
Head coach Andy Gill is looking forward to helping this group now develop together:
"We had a productive weekend with the first group of selected players and what we have realised is the need to keep a larger squad than normal due the lack of development possible over the last 18 months. We have done this by inviting 29 players to continue their journey up to February 2022. They will have the chance to demonstrate to us their ability to develop as players and embrace the concepts they will need to use in the international arena."
Ireland U16 girls panel 21/22
| | | | | | | |
| --- | --- | --- | --- | --- | --- | --- |
| First name | Surname | D.O. B | Age | Height | Club | Position |
| Freya | Blennerhassett | 6/3/2006 | 15 | 5' 11'' | Meteors | Guard |
| Kelly | Bracken | 31/3/2006 | 15 | 5' 5'' | Liffey Celtic | Point Guard |
| Ciara | Brogan | 16/10/2007 | 14 | 5' 11'' | Liffey Celtic | Forward |
| Clara | Boyce | 3/3/2006 | 15 | 6' | Liffey Celtic | Forward |
| Rachel | Bowdren | 2/1/2006 | 15 | 5' 6'' | Fr. Mathews | Point Guard |
| Sarah | Courtney | 18/12/2006 | 14 | 5' 8'' | Killester | Guard |
| Ava | Crean | 24/1/2006 | 15 | 5' 3'' | Limerick Celtics | Guard |
| Rachel | Creedon | 11/10/2006 | 15 | 5' 4'' | Team Kerry Bobcats | Point Guard |
| Aisling | Coakley | 25/11/2006 | 15 | 5' 11'' | Fr. Mathews | Forward |
| Shauna | Curran | 2/2/2006 | 15 | 5' 11'' | Liffey Celtic | Guard |
| McKenna | Douglas | 23/9/2006 | 15 | 5' 9'' | Toronto Huskies | Guard |
| Ellie | Doyle | 2/3/2006 | 15 | 5' 7'' | Malahide | Point Guard |
| Aoibhin | Dunphy | 31/10/2006 | 15 | 5' 10'' | Kilkenny Stars | Forward |
| Karolina | Gierszal | 24/4/2006 | 15 | 5' 8'' | MUK Bydgoszcz | Point Guard |
| Caoimhe | Gilligan | 7/10/2006 | 15 | 6' | Dublin Lions | Forward |
| Sophie | Kavanagh | 22/7/2006 | 15 | 6' 3'' | Killester | Forward |
| Helena | Keane | 18/12/2007 | 13 | 5' 11'' | Meteors | Forward |
| Leah | McMahon | 6/2/2006 | 15 | 5' 5'' | St Paul's | Guard |
| Aisling | Moran | 23/11/2006 | 14 | 5' 5'' | Meteors | Guard |
| Anna | O'Sullivan | 31/1/2006 | 15 | 5' 11'' | Meteors | Forward |
| Mia | Pardy | 29/4/2006 | 15 | 5' 11'' | Liffey Celtic | Forward |
| Grace | Prenter | 12/5/2006 | 15 | 5' 7'' | Meteors | Point Guard |
| Aoife | Robertson | 9/9/2006 | 15 | 5' 7'' | Dublin Lions | Point Guard |
| Sophie | Staunton | 2/3/2007 | 14 | 5' 10'' | Oblates | Guard |
| Shannon | Quigley | 25/10/2006 | 15 | 5' 11'' | Portlaoise | Forward |
| Nina | Stijacic | 6/10/2006 | 15 | 5' 10'' | Limerick Celtics | Forward |
| Emma | Tolan | 23/3/2006 | 15 | 5' 10'' | East Cavan Eagles | Guard |
| Bolu | Ugwah | 11/2/2006 | 15 | 6' | Douglas Panthers | Forward |
| Ava | Walsh | 21.6.2006 | 15 | 5' 9'' | Douglas Panthers | Guard |
H