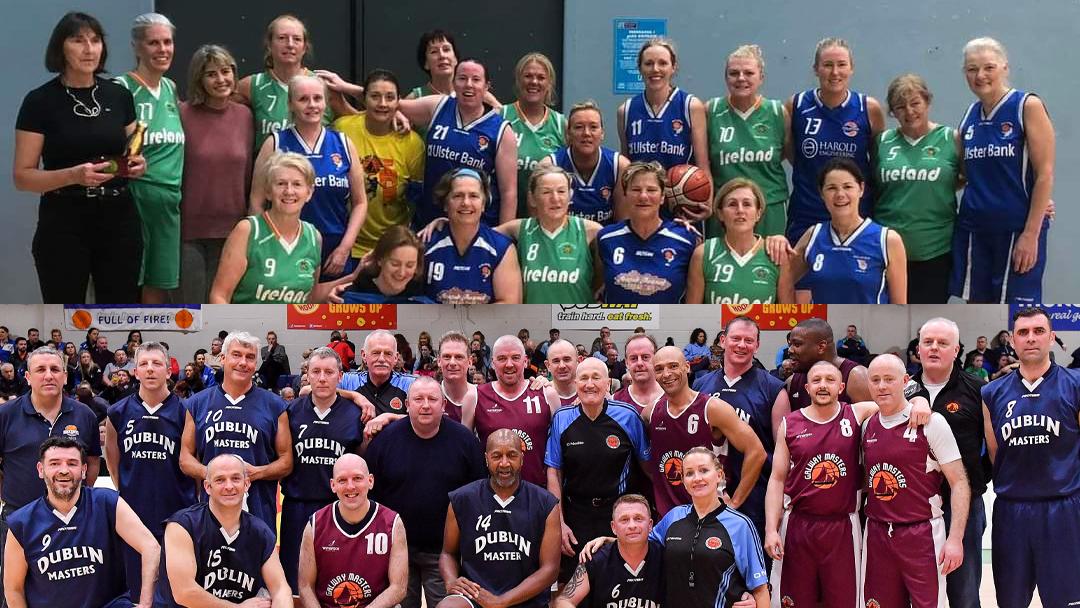 Feb 02 2022
BI Masters National Cup set for launch
The Basketball Ireland Masters National Cup draw has been completed, with a total of 43 teams at Over 40s (Men & Women) and Over 50s (Men) lined up to participate in the competition. This will be the first Masters National Cup ran by Basketball Ireland, and is set to be a huge success with the level of interest in Masters basketball already shown throughout the country.
Mike Murray ,the administrator for Masters basketball in Basketball Ireland is delighted to see the competition come to fruition following the impact of Covid-19; "It's great to eventually get the Masters Cup up and running after several delays due to Covid. This event is a highly anticipated addition to the basketball calendar and it creates the opportunity for former players, most of whom are actively involved in various areas of the game, to compete at a national level".
Rules & Regulations
Teams must only comprise of players resident in the same province.
All players must be registered with Basketball Ireland and hold a valid current BIPIN.
Registration fee is €20.00 per player - Click here to register
The competition will be an open draw knockout national competition
Referees & T.O. fees will be split evenly by both teams and paid immediately after the game.
The referee's will be appointed by B.I. and the TO's by the home team. To facilitate booking of referees please email masterscups@ireland.basketball with the DATE,VENUE & TIME of the game. This must be done asap but no later than 5 days prior to the booking to ensure availability of referees.
Hall hire to be paid by home team.
Game rules and regulations to follow standard FIBA national league rules.
Age requirements are as follows:
Over 40s Men/Women - 40 years old on or before 31st

Dec 2021


Over 50s Men - 50 years old on our before 31st Dec 2021
Team list, home venue address and Eircode to be completed and emailed to masterscups@ireland.basketball by c

lose of business on Wednesday Feb 9th 2022

.
Results to be e-mailed to masterscups@ireland.basketball

by home team.

Please use the following format:
- Half Time Score
- Full Time Score
- Top 3 scorers names from each team


A minimum warm up time of 30 minutes must be given to the travelling team by the home team prior to the game.
Masters Cup - Over 40s Men
Competition: #167385
Date

Time

Home

Away

Venue
13/02/2022

13/02/2022

12:00

TBC

Kilkenny Masters

Kilkenny Masters

50

74

50

74

Vikings

Vikings

TBC
13/02/2022

13/02/2022

12:00

TBC

Neptune BC

Neptune BC

64

59

64

59

Ballina Celtics

Ballina Celtics

TBC
13/02/2022

13/02/2022

12:00

TBC

Sliabh Luachra

Sliabh Luachra

67

69

67

69

Killarney Cougars

Killarney Cougars

TBC
20/02/2022

20/02/2022

12:00

TBC

Midland Masters

Midland Masters

12:00

VS

Muckno Lakers

Muckno Lakers

TBC
27/02/2022

27/02/2022

12:00

TBC

Killarney Cougars

Killarney Cougars

74

89

74

89

Dublin West

Dublin West

TBC
27/02/2022

27/02/2022

12:00

TBC

Tyrone Towers

Tyrone Towers

60

50

60

50

Belfast

Belfast

TBC
Masters Cup - Over 40s Women
Competition: #167386
Date

Time

Home

Away

Venue
TBC

TBC

TBC

Chasers Revellers

Chasers Revellers

VS

Leinster Hotshots

Leinster Hotshots

TBC
Masters Cup - Over 50s Men
Competition: #167257
Date

Time

Home

Away

Venue
13/02/2022

13/02/2022

12:00

TBC

Dublin Lions

Dublin Lions

71

38

71

38

Ulster

Ulster

TBC
13/02/2022

13/02/2022

17:00

TBC

Shannon Dodgers

Shannon Dodgers

45

65

45

65

Dublin Masters

Dublin Masters

TBC
24/02/2022

24/02/2022

20:00

TBC

Killarney Cougars

Killarney Cougars

84

74

84

74

Fr.Mathews

Fr.Mathews

TBC