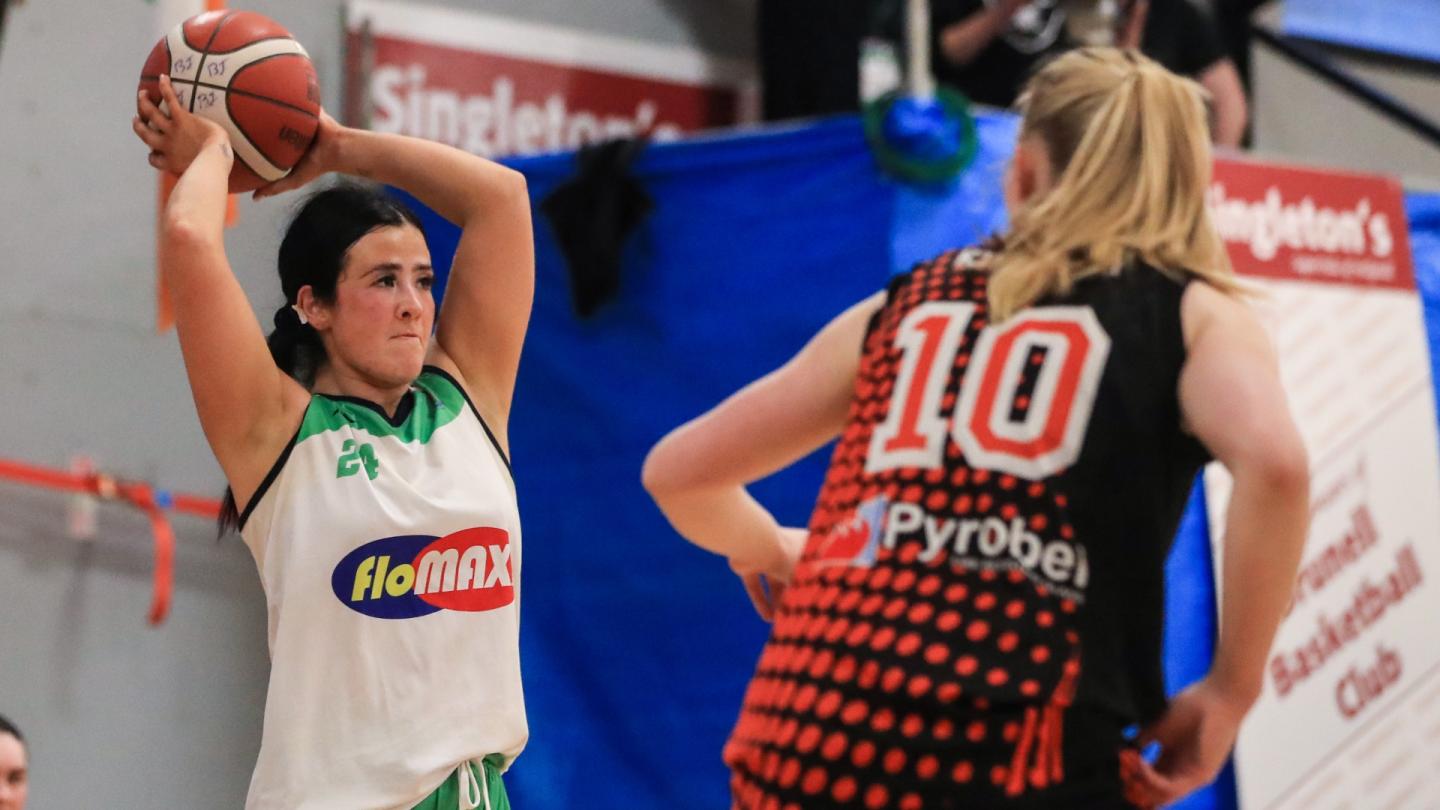 Jan 07 2023
Scintillating opening half sees Liffey Celtics defeat Killester in InsureMyHouse.ie Women's NICC semi-final
Liffey Celtics booked their place in the Women's Intermediate National Cup after a comprehensive 62-43 win over rivals Killester. They'll face the winners of the other semi-final featuring Glanmire and Cobh which takes place tomorrow morning in Upper Glanmire.
A super interchange of passes between Erin Bracken and Niamh Masterson opened the scoring for Liffey Celtics who took an early lead through their full court pressure. Ali Cleary got Killester off the mark with a deep 3-pointer. Killester's Ali Connolly ended their scoring drought with an impressive 3 from the baseline, but Homan and Bracken's shooting for Liffey proved decisive as they lead 21-11 at the end of the 1st.
Killester struggled to get a foot hold in the opening minutes of the second quarter as Liffey Celtics extended their lead. They then gave away two basic fouls to leave them in trouble for the remaining six minutes. Liffey Celtics continued to build on their lead through fast-break transitions and determined defence. Shots from Connolly and Devitt kept Killester's scoreboard ticking over, but at half-time Liffey Celtics still led 40-21.
Lauren Devitt opened the scoring affair in the second half closely followed by fast-break from Hannah Feerick to give Killester some points. Bracken continued her accurate shooting for Liffey Celtics giving them their first 3 pointer of the half. Celtics continued to dominate every aspect leading by 20 points going into the last quarter.
Liffey Celtics continued to apply the pressure in the closing minutes of the game maintaining their extensive lead, finishing the game off with a 62-43 win. They now wait and see who they will be facing in the final as Glanmire and Cobh face off in the other semi—final tomorrow morning.
Celtic's coach Suzanne Maguire spoke after the game how good her team was throughout the game. "The girls were really hungry for the game today; I was delighted that we got our noses in front and that we maintained that lead the entire game."
Quarter Score:
Q1: 21-11
Q2: 40-21
Q3: 54-34
Q4: 62-43
Liffey Celtics: Alannah Mullins, Caoimhe Masterson, Rachel O'Carroll, Karen O'Shea, Megan O'Sullivan, Aoife Tiernan, Niamh Masterson, Erin Bracken, Karen Mealey, Ailbhe Harrington, Niamh Sherlock, Shauna Homan.
Top Scorers: Erin Bracken (14), Niamh Masterson (11), Rachel O'Carroll (7)
Killester: Eleanor Fitzsimons, Catriona White , Hannah Feerick, Ali Cleary, Lauren Devitt, Jade McGovern, Ali Connolly, Aly O'Dea, Ciara McGoldrick, Johanna Barbier, Aoibheann Byrne, Sinead Boyle.
Top Scorers: Ali Connolly (14), Lauren Devitt (10), Aoibheann Byrne (8)