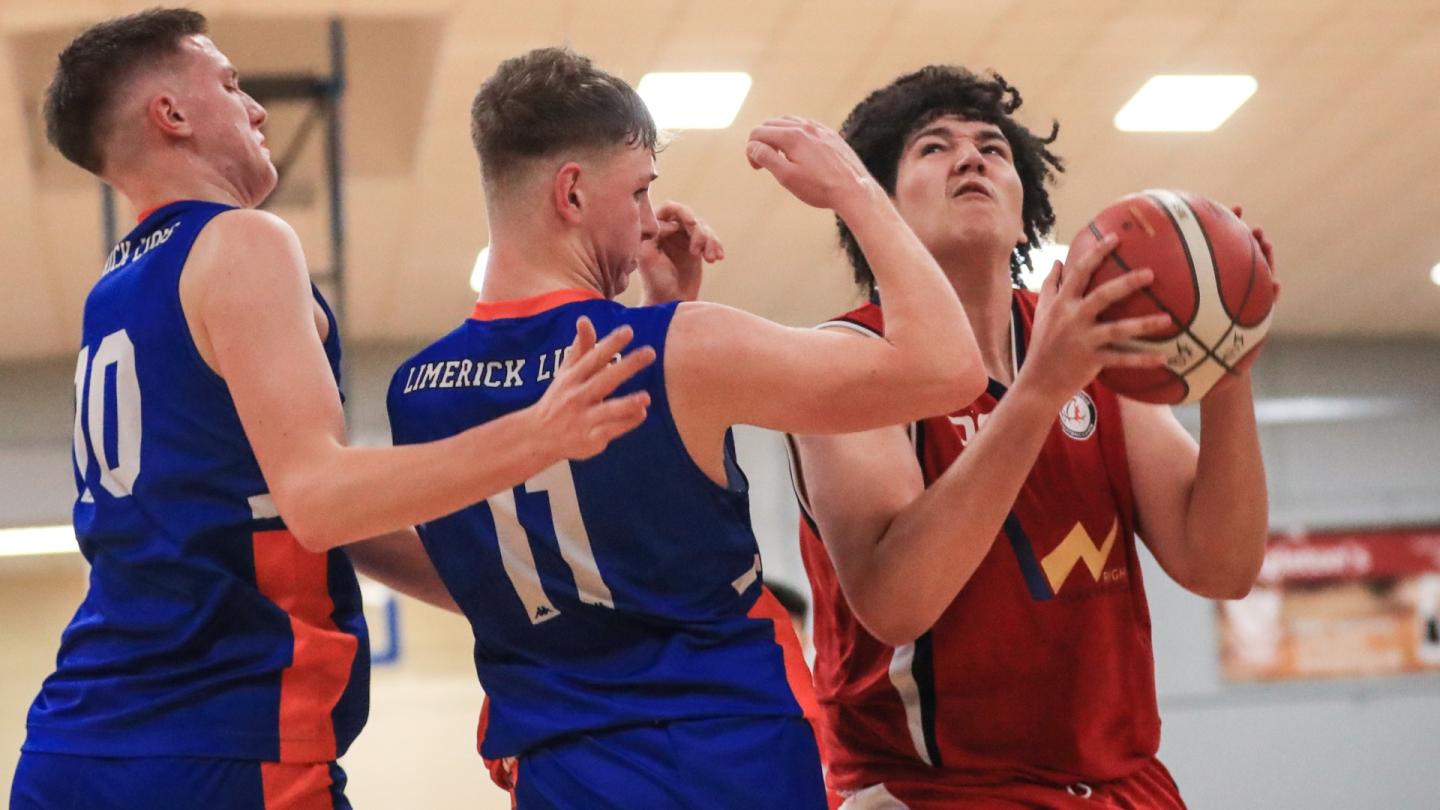 Jan 07 2023
Templeogue BC overcome Limerick Lions to advance to U18 Men's Billy Coffey National Cup decider
Templeogue are on their way into the final of the InsureMyHouse.ie U18 Men's Billy Coffey National Cup after a tricky game against Limerick Lions which ended on a score line of 75-68.
The first semi-final of this competition was an extremely physical affair with both sides putting their bodies on the line.
Limerick Lions got the opening tip of the game, but Templeogue came away with the opening 2 points through Jack Finn's strong drive to the basket. Sean Morrisey from Lion's got his team on the score board making 1 out of 2 free throws.
Templeogue's inside presence was felt from the beginning with their centres getting important drives putting them ahead by 4 points early on.
Limerick Lions showed persistence in offence earning points from strong drives, but Templeogue's fast-paced nature kept them well ahead.
The shots continued to fall for Templeogue, despite acquiring five team fouls. Jack Wright was the standout for the Dublin side scoring 18-poiints in the opening quarter.
Limerick Lions continued to struggle with Templeogue's inside threats with Fazande and Carberry causing havoc with their rebounds. Missed shots for Lions resulted in fast break points for Templeogue who extended their lead to 26-points mid-way through the second quarter.
A dry spell for Templeogue saw Limerick Lions reignite with two quick steals from Danny Shahab, who got some critical scores on the board.
Jack Wright and Daniel Carberry remained incredibly important to the Dublin sides attack linking up on multiple occasions. Templeogue remained in front at the end of the half on a 46-29 score line.
Lions started out the better team in the 3rd quarter with Liam Price getting the scoring under way with a deep three, spurring his team on to close the gap to 11 points. The treaty side continued to chip away at the deficit, but despite this Templeogue maintained their lead ending the quarter 8 points ahead.
Jack Finn got his side of to a rapid start in the final quarter to control Templeogue's lead. Lions picked up four team fouls early in the quarter hindering their aggression on defence. Daniel Carberry continued his inside attack in the final minutes proving difficult to defend for Lions.
Shahab and Horkan put on an inspired display from start to finish keeping their team within touching distance of Templeogue throughout. Despite Lions late charge it remained Templeogue on a winning score-line of 75-68.
After the game, Templeogue's head coach Jay Fazande said "We made it very difficult, because Limerick Lions are a great team and they kept fighting, but we pretty much played a perfect first half to give us that lead when we struggled at times in the second half".
Quarter Score:
Q1: 32-14
Q2: 46-29
Q3: 59-51
Q4: 75-68
Templeogue: Thyrone Clara, Gian Melvern G Cabello, Lance Migeul Antolin, Gareth Brady, Felix McMahon, Darragh O'Toole, Tom Sinnott, Alexandru Cristian Puiu, Adam Tighe, Daniel Carberry, Jack Wright, Jack Finn, Jacob Fazande.
Top Scorers: Jack Wright (28), Daniel Carberry (23), Jacob Fazande (9)
Limerick Lions: Adam O'Rourke, Adam Gomes, Patryk Rejkowicz, Danny Shahab, Liam Price, Sean Morrissey, Micheál Fahy, Darragh Horkan, Krill Yakovlev, Sean O'Connell, Fionn O'Meara, Diarmuid O' Donoghue.
Top Scorers: Liam Price (22), Darragh Horkan (14), Daniel Shahab (14).