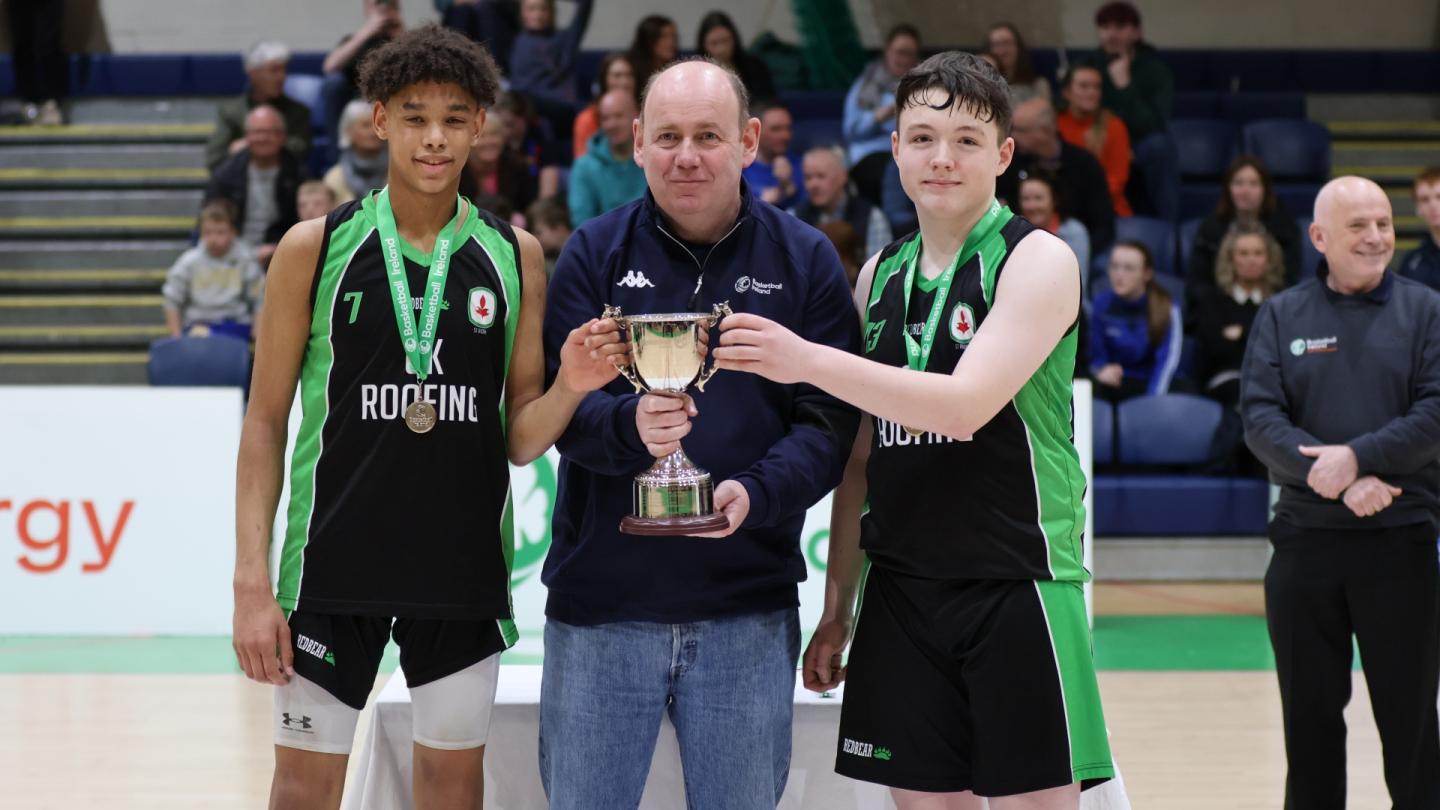 Feb 23 2023
St. Aidan's Community College beat Ard Scoil Na Mara to become U16 'B' Boys All-Ireland School champions
A second quarter surge helped St. Aidan's Community College overcome Ard Scoil Na Mara 46-30 and collect the U16 'B' Boys All-Ireland Schools League final at the National Basketball Ireland.
Justin Raheem picked up the game MVP golden ball, top scoring with 31 points in a very impressive all round performance.
Both teams found their stride quickly. Sean Noonan of St. Aidan's CC traded scores with Ard Scoil Na Mara's Zak O'Sulllivan to get proceedings underway. As the quarter progressed each side enjoyed spells of pressure. Sam Aluko hit a pair of free throws and Justin Raheem brought head coach Jordan Blount to his feet with a corner three. Ard Scoil Na Mara replied with a 9-5 run in the closing four minutes, rounded off by a Zak O'Sullivan drive to the basket, leaving the score 15-11 after the first.
The game turned on some hard St. Aidan's defence in the second, restricting Ryan Pepper's Ard Scoil Na Mara to just four points. On the offensive end, Raheem and Victory Odinakachi proved potent. The duo combined for 10 points, including a well worked drive and feed right beneath the basket, as Odinakachi tipped the ball to cement a 27-15 lead at the interval.
The gap between the teams grew to a peak of 15 points with 6:04 left in the third, before Ard Scoil Na Mara came thundering back into it. Ronan O'Toole made consecutive jumpers and when Zak O'Sullivan struck with his second three point shot of the game to end the quarter, the Waterford school's supporters believed the comeback was on despite trailing 35-26.
That sense of belief reached fever pitched when Dylan Farrell and O'Sullivan reduced the deficit to six points with 5:07 left on the clock, but insurance scores by the MVP Raheem saw St. Aidan's Community College close out the contest.
---
Quarter Scores:
Q1: 15-11
Q2: 12-4
Q3: 8-11
Q4: 11-4
---
Top Scorers:
St. Aidan's Community College: Justin Raheem (31), Sean Noonan (6), Victory Odinakachi (4)
Ard Scoil Na Mara: Ronan O'Toole (14), Zak O'Sullivan (12), Matt Barrett (2)
St. Aidan's Community College:
Conor Leonard, Evan Kelleher, Justin Raheem, Andrew Dumitrache, Ciaran Kavanagh, Sean Kelleher, Victory Odinakachi, Sean Noonan, Scott Moore, Sam Aluko
Coach: Jordan Blount
Ass. Coach: Ger Noonan, Jodi Furlong
Ard Scoil Na Mara:
Matt Barrett, Peter Breen, Shay Corcoran, Ben Dineen, Dylan Farrell, Robert Jones, Eoin McCusker, Seanie O'Shea, Zak O'Sullivan, Ronan O'Toole
Coach: Ryan Pepper