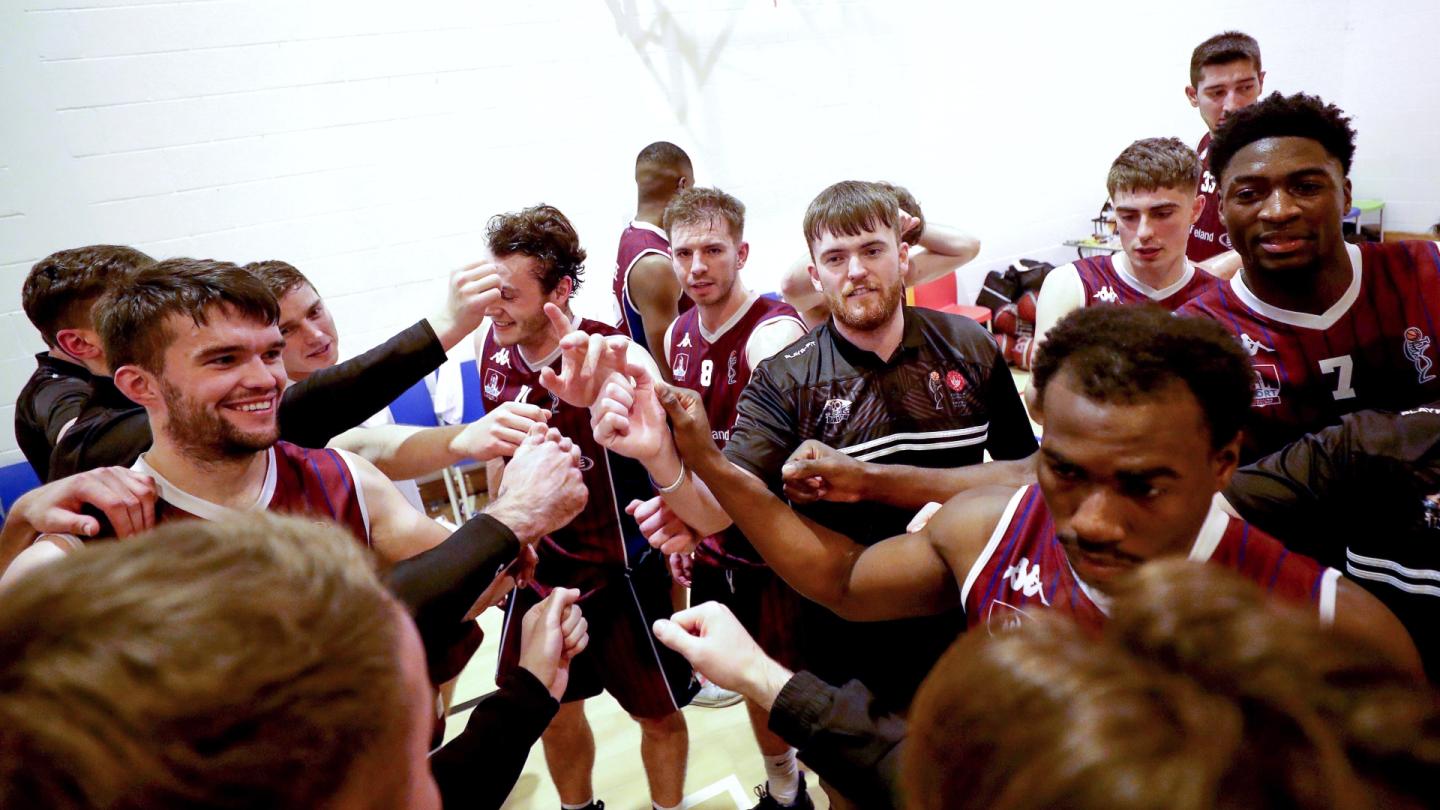 Mar 19 2023
Final four in InsureMyVan.ie Super League playoffs decided, Moycullen beat UCD Marian in relegation playoff
Belfast Star, University of Galway Maree, Emporium Cork Basketball and UCC Demons are into the InsureMyVan.ie Super League playoff semi-finals. Moycullen have retained their InsureMyVan.ie Super League status, defeating UCD Marian 69-64 in the relegation playoff, which means the Dublin club drop down to InsureMyVan.ie Division 1.
There was joy for Portlaoise Panthers, who sealed promotion to the MissQuote.ie Super League thanks to a 70-62 win over St. Paul's Killarney in the MissQuote.ie Division League Playoff final. Waterford Wildcats and Trinity Meteors secured a last four spot in the MissQuote.ie Champions Trophy on Saturday, while Marble City Hawks claimed the WNLC Cup trophy, defeating Griffith College Templeogue 71-57.
Emporium Cork Basketball player/coach Ciarán O'Sullivan a "huge win for our club" after battling their way through two overtime periods, before finally overcoming a resilient DBS Éanna 101-94, in a thrilling game at Coláiste Éanna. DBS Éanna, who trailed at half-time 42-35, took the third quarter by storm, winning it 28-14 and put them ahead 63-56 at the end of the third. Adrian O'Sullivan's three pointer with 31 seconds to go brought it level at 77 each to force overtime. A second period of overtime was required after Kristijan Andabaka's three pointer with 11 seconds remaining once again had the sides level, at 84-84. Jose Jimenez Gonzales scored 10 of 23 points in the second period of overtime to help propel Emporium Cork Basketball to victory.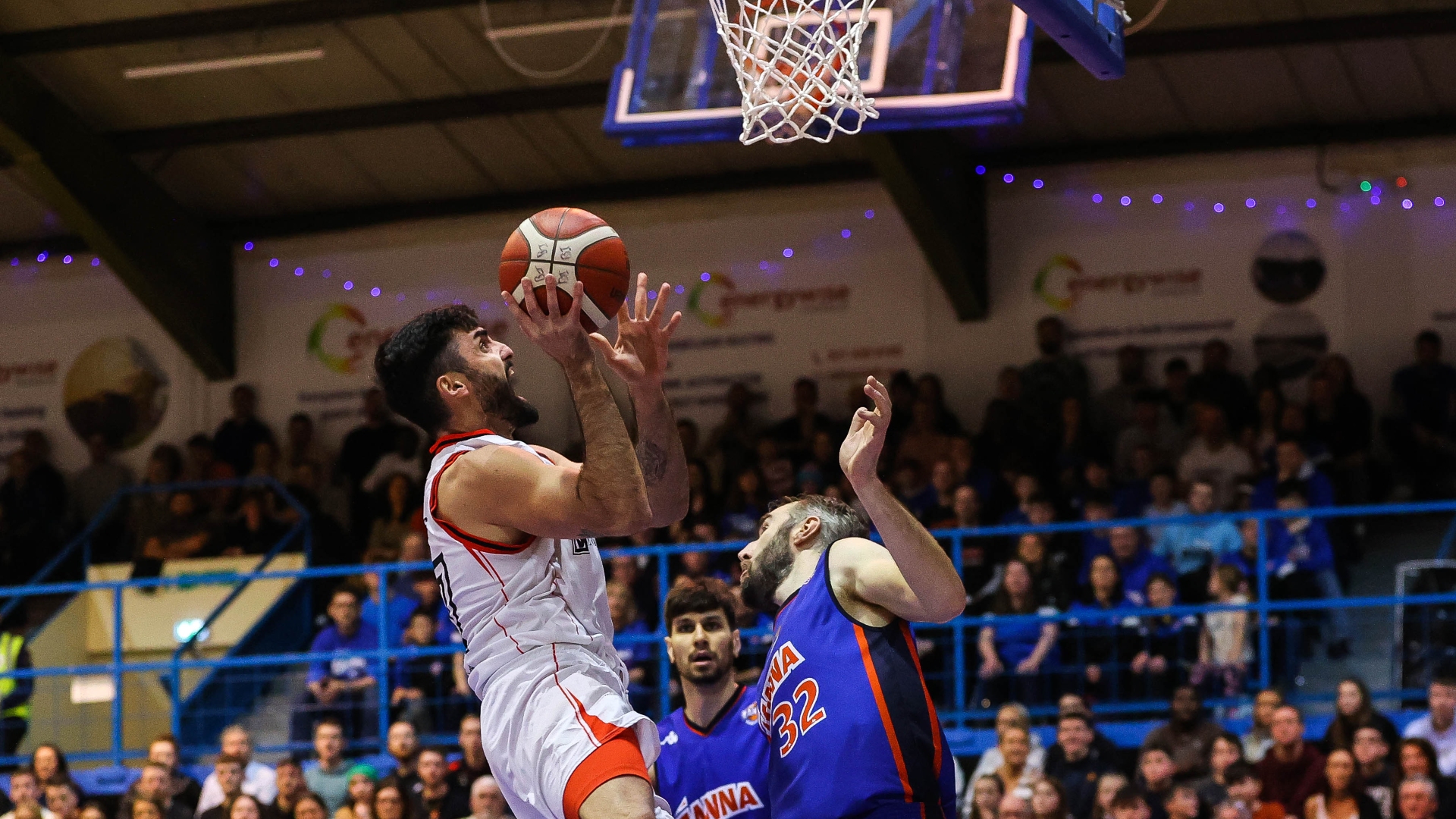 Jose Jimenez Gonzales scored 23 points for Emporium Cork Basketball in their win over DBS Éanna
"Huge win for our club. A big thanks must go to our traveling fans, who gave us a huge boost on the night. It was a dramatic game with plenty of twists and turns, and it's just nice to come out on the right side of it." - Ciarán O'Sullivan, Emporium Cork Basketball player/coach
Emporium Cork Basketball will travel to local rivals UCC Demons in the last four. UCC Demons also required two periods of overtime, to defeat Killester 120-116. Killester were up by 15 points, 74-59, following Lamar Morgan's three point jump shot two minutes into the third, before Demons dragged themselves back into the game. MJ Randolph top scored with 37 points for the victors, while Kyle Hosford had 20.
UCC Demons head coach Daniel O'Mahony said: "It was a hell of a game. Killester are a very talented team, I think nobody had seen how good they actually are, they played 70-80% of the season missing a lot of bodies. They got in a really good American that made him them that bit better and obviously with Paul (Dick), Gregorio (Jesus Adon Encarnacion), (Tomas) Fernandez, Ciarán Roe, everybody was available today so they definitely came with all their guns fully loaded. I think they had us to 15 points at one stage, we went into a timeout and we just said 'we've been there all year, let's not go down like this'. There's 13 minutes to go and 15 points down and guys backed each other and all it took was somebody to make a big play and it followed on with another big play and we stuck together and got over the line"
InsureMyHouse.ie Pat Duffy National Cup winners University of Galway Maree were given a scare by provincial rivals Ej Sligo All-Stars, before emerging 80-72 winners at the Kingfisher. The home side trailed by as much as 16 points four minutes into second quarter, after Oisin O'Reilly's three-pointer – he'd finish with a game-high 29 points. Ej Sligo All-Stars were 38-29 to the good at half-time, but game turned after the break, Jarret Haines the Galway club's leading scorer once more, on 28.
University of Galway Maree head coach, Charlie Crowley, praised the turnaround made by his team. "That was a classic playoff game - get over the line. Sligo caused us huge problems and we worked to get over those issues. A strong second half allowed us to get in front. Defence is what won us the game."
University of Galway Maree will play 2020 Super League winners Belfast Star at home in the semi-finals. Adrian Fulton's side came through another tight game, defeating Enerywise Ireland Neptune 73-69. Tarkus Ferguson landed a three it put the away side up by 13 points, 37-24 with just under four minutes to go in the second quarter, but by half-time Belfast Star trailed by a point, 39-38, after a pair of Conor Quinn free-throws. Quinn would finish with a game-high 24 points and his head coach Fulton singled him out for praise, saying he was "off the charts". It was level at 52-52 going into the fourth, but Energywise Ireland Neptune were up by eight after Jordan Blount's layup, but an eight-point personal run by Conor Quinn – including two 3's - brought them back level. Belfast Star nudged themselves in front after that and would not relinquish their lead, eventually winning by four.
"Well we play all year to compete for home advantage and I think that our home support was amazing once again tonight. The atmosphere was, once again, absolutely electric and they helped us big time. Both teams competed and had their runs. It was relentless and physical. I guess as our brilliant commentator Brian McCreanor put it - our own version of March Madness! We weathered the early storm by hanging in with our defence. Everyone played their part and our bench really added value to the starting lineup. When you have two terrific Americans who don't care which one plays more, it makes it so much easier for Gerard and I on the sideline. Oisin (Kerlin), Liam (Pettigrew) and Johnty (Conor Johnston) are the same. They keep battling and pushing each other to be better. Our guards all rotated and worked their socks off. Aidan (Quinn) had the responsibility of trying to slow down Tarkus Ferguson and Jordan Evans and was excellent. Max Richardson has been a terrific signing and made some huge plays for us at both ends, but Conor Quinn deserves a special mention. He was off the charts tonight, making big play after big play in the second half in particular. So we are thrilled with the win, as the players showed toughness and resilience against a very good Neptune side, who made it difficult for 40 minutes." - Adrian Fulton, Belfast Star head coach
View this post on Instagram
Moycullen will be in the InsureMyVan.ie Super League next season, following a 69-64 relegation playoff win over UCD Marian at the National Basketball Arena. The Dublin club got within a point in the fourth quarter following a pair of Conor Meany free throws just before midpoint, to trail 58-57. Moycullen responded with an eight point run, to help steer them to victory. Grant Olsson top scored for the victors on 20 points.
"It's brilliant, relief. We had to readjust early in the season, we had so many injuries, we had to battle, we had to find a way to stay in the division. It's a shame it's two clubs who were in an U20 Cup final two years ago, it's a shame that those two clubs end up in a relegation playoff, it's where the league is, but we're just happy to get the win. I feel sorry for UCD Marian, they have a lot of good young players and a lot of development work done, but they'll be back, but for us it was all about hanging on, getting the win and we did that, fair dues to the lads, a great effort." - Moycullen head coach John Cunningham
View this post on Instagram
Portlaoise Panthers have been promoted to the MissQuote.ie Super League, defeating St. Paul's Killarney 70-62 in the MissQuote.ie Division 1 League Playoff final at the National Basketball Arena. Jessica Fressle scored 34 points for the victors and speaking afterwards she said: "It feels unreal honestly, it feels like a dream. We set out for this goal from the minute they brought me to St. Mary's Hall and this was our goal and we did it. I couldn't have done it without all 14 of them."
Portlaoise Panthers had to come from nine points down with a minute to go in the third quarter and asked what the key to getting over the line, Fressle added: "It's the way we stick together, us fighting through adversity every single game, losing games, learning how to win games and it comes down to this very moment and we stuck together when it really mattered and together we did this."
View this post on Instagram
Portlaoise Panthers defeated McEvoy's Cavan Eagles 80-71 in their semi-final on Saturday, while St. Paul's Killarney had reached Sunday's decider by beating Phoenix Rockets 85-84.
In the MissQuote.ie Champions Trophy playoff quarter-finals, Karli Seay's 21 points and 15 from Jasmine Walker, helped Waterford Wildcats get past Killester 63-56. It sets up a semi-final with MissQuote.ie Champions Trophy holders and current MissQuote.ie Super League winners, The Address UCC Glanmire. Head coach Tommy O'Mahony said: "Delighted to get over the line, Killester are a very dynamic team and have scored heavily this year. I thought defensively we were very good, especially Kate Hickey, who had an outstanding game. When our offence was not going to plan I thought we dug in on defence and limited their options. We are thrilled to be through to a national semi-final, it's where every player wants to be. Glanmire I'm sure will be seeking some revenge for the last game, so we will have to put in a good week of training to be ready for the challenge, but we are really looking forward to it and can't wait for the game."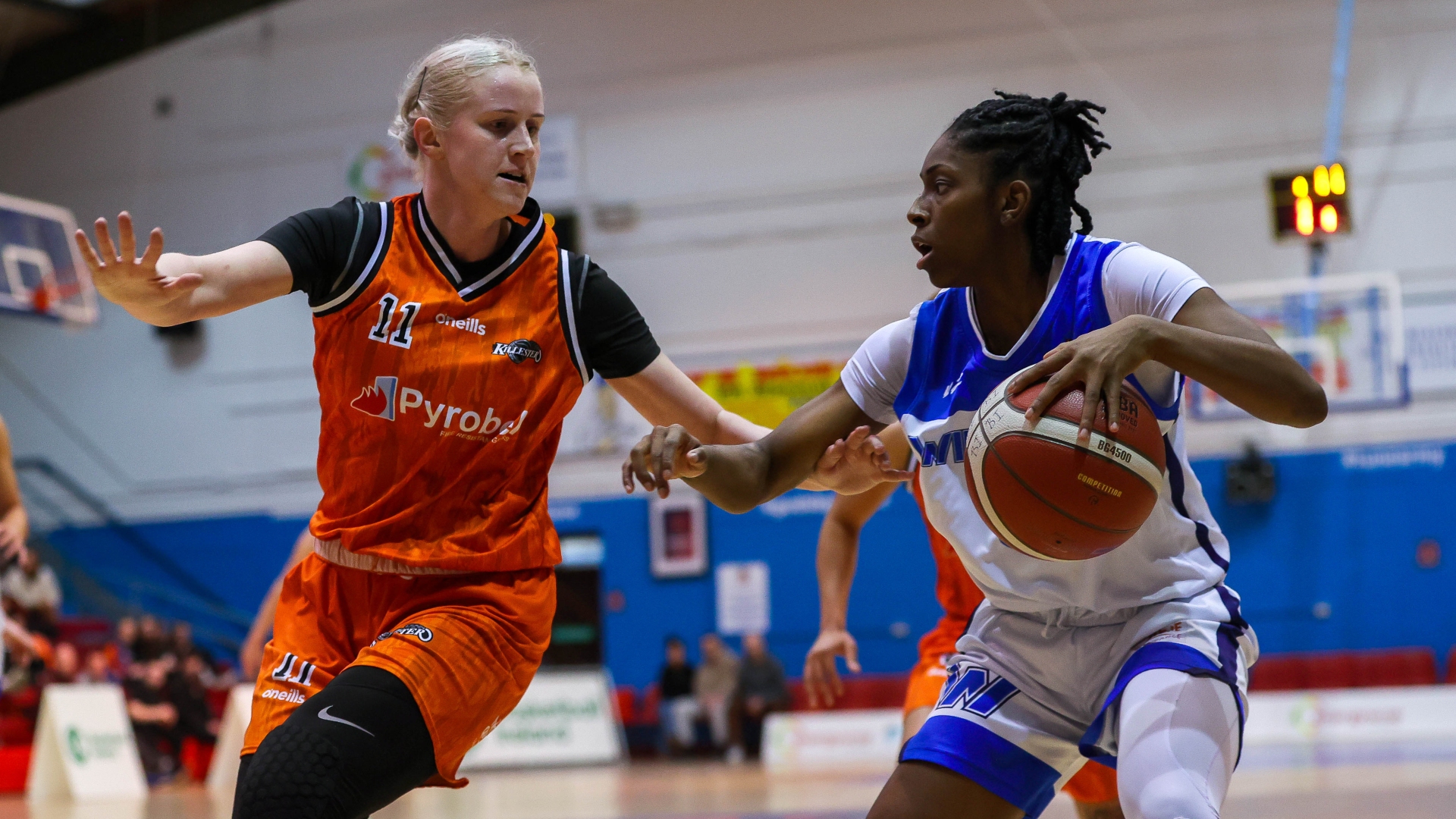 Karli Seay scored 21 points for Waterford Wildcats against Killester in their MissQuote.ie Champions Trophy quarter-final
Trinity Meteors defeated Leixlip Amenities Liffey Celtics 72-65 on Sunday to set up a Dublin derby semi-final against DCU Mercy next weekend. Irish internationals Dayna Finn and Claire Melia were crucial to the win, with 24 and 18 points respectively. Niall Berry's side led from the fourth minute to the finish and had a 17-point advantage going into the fourth quarter, 62-45, but had to withstand a valiant fightback from their County Kildare opponents. Trinity Meteors head coach Niall Berry said: "Really proud of our girls today. We showed the type of togetherness that we had for the majority of the season, and there was some fantastic individual displays to go with that. Great to get the win, and now we look forward to heading to DCU next weekend for the semi-final."
Marble City Hawks claimed the WNLC Cup at the Barrow Centre, defeating Griffith College Templeogue 71-57 in the final. Thiana Stewart top scored for the Kilkenny outfit with 23 points. Marble City Hawks had accounted for Abbey Seals Dublin Lions, 78-43, in the semi-finals earlier on Sunday and eliminated Swords Thunder in the quarter-finals on Saturday, winning 68-55. Griffith College Templeogue got past Limerick Sport Huskies (72-55) and SETU Carlow 75-71 en-route to the final.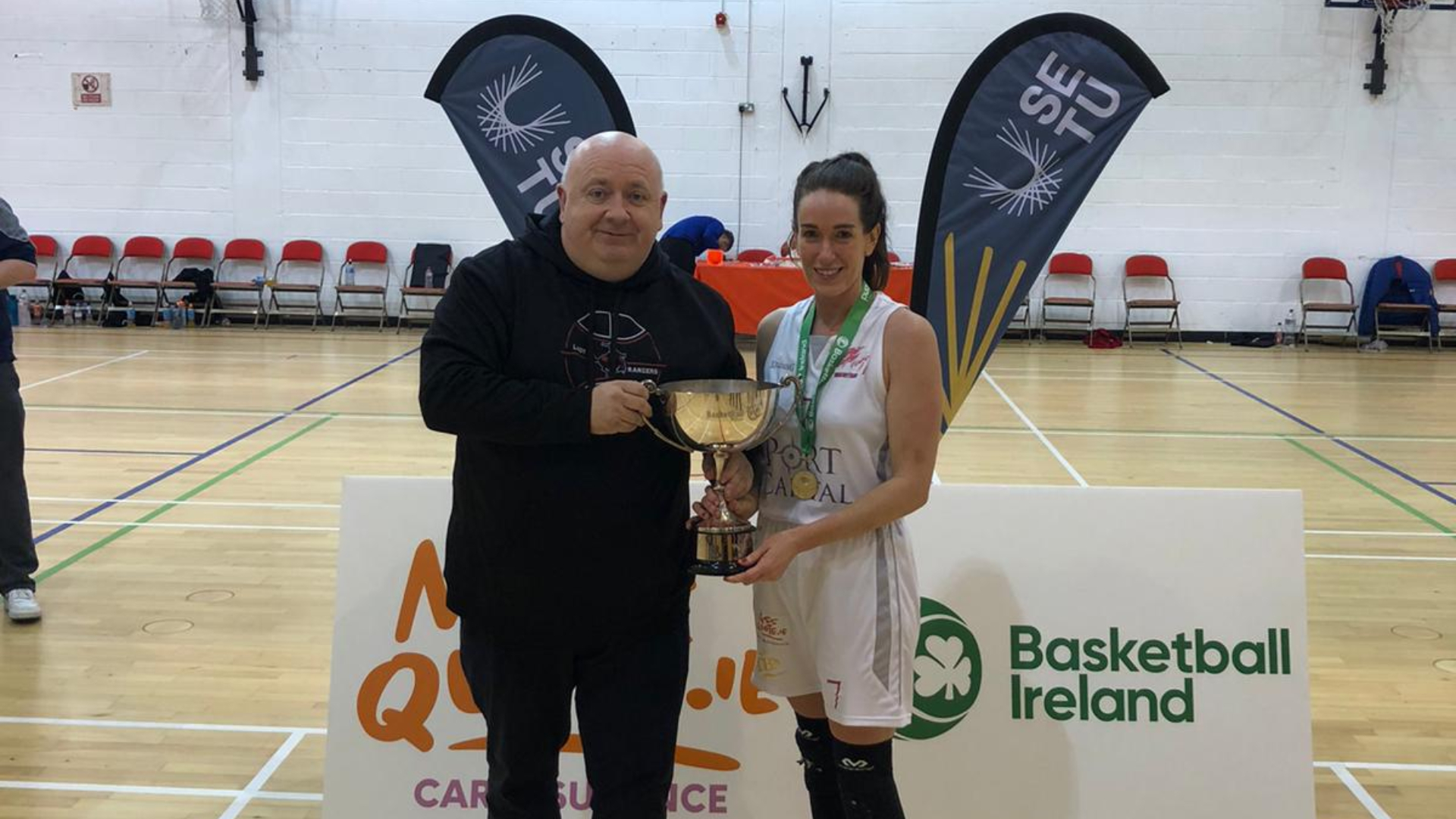 Marble City Hawks captain Maria Connolly is presented the WNLC Cup by Martin Conroy.
In the InsureMyVan.ie Division 1 Playoff quarter-finals Moy Tolka Rovers defeated SETU Carlow 88-84. They have another home game in the last four, against Limerick Sport Eagles, who eased to a 89-63 success over Drogheda Wolves. Ulster University won 89-75 at Limerick Celtics to secure a home semi-final with Malahide, who led their quarter-final from start to finish against O'Dwyers of Cork Fr. Mathews, winning 110-82.
Weekend Results
InsureMyVan.ie Super League Quarter-Final playoffs:
Saturday, March 18th
Belfast Star 73-69 Energywise Ireland Neptune
University of Galway Maree 80-72 Ej Sligo All-Stars
DBS Éanna 94-101 Emporium Cork Basketball (after overtime)
Sunday, March 19th
UCC Demons 120-116 Killester (after overtime)
InsureMyVan.ie Super League Relegation playoff:
Sunday, March 19th
Moycullen 69-64 UCD Marian
MissQuote.ie Champions Trophy Playoff Quarter-Finals:
Saturday, March 18th
Waterford Wildcats 63-56 Killester
Sunday, March 19th
Trinity Meteors 72-65 Leixlip Amenities Liffey Celtics
InsureMyVan.ie Division 1 Playoff Quarter-Finals:
Saturday, March 18th
Moy Tolka Rovers 88-84 SETU Carlow
Limerick Sport Eagles 89-63 Drogheda Wolves
Limerick Celtics 75-89 Ulster University
Malahide 110-82 O'Dwyers of Cork Fr. Mathews
MissQuote.ie Division 1 League Playoffs Semi-Finals:
Saturday, March 18th
McEvoy's Cavan Eagles 71-80 Portlaoise Panthers
St. Paul's Killarney 85-84 Phoenix Rockets,
MissQuote.ie Division 1 League Playoffs Final:
Sunday, March 19th
Portlaoise Panthers 70-62 St. Paul's Killarney
MissQuote.ie WNLC Cup:
Saturday, March 18th
Preliminary Game
Limerick Sport Huskies 63-60 Oblate Dynamos
Quarter-finals
Marble City Hawks 68-55 Swords Thunder
Griffith College Templeogue 72-55 Limerick Sport Huskies
Sunday, March 19th
Semi-finals
SETU Carlow 71-75 Griffith College Templeogue
Abbey Seals Dublin Lions 43-78 Marble City Hawks
WNLC Cup final
Griffith College Templeouge 57-71 Marble City Hawks
Next weekend's fixtures
InsureMyVan.ie Super League Playoff Semi-Finals:
March 26th/27th
UCC Demons v Emporium Cork Basketball
University of Galway Maree v Belfast Star
InsureMyVan.ie Division 1 League Playoff Semi-Finals:
March 26th/27th
Moy Tolka Rovers v Limerick Sport Eagles
Malahide v Ulster University
MissQuote.ie Champions Trophy Playoff Semi-Finals
March 26th/27th
The Address UCC Glanmire v Waterford Wildcats
DCU Mercy v Trinity Meteors
MissQuote.ie Division 1 League Cup
Saturday 25th March
Quarter-finals
Phoenix Rockets v Limerick Celtics, Virginia Sports Centre, 1300 (Game 1)
Portlaoise Panthers v Moy Tolka Rovers, Virginia Sports Centre, 1530 (Game 2)
Sunday 26th March
Semi-finals
St. Paul's Killarney v Winner Game 1, Virginia Sports Centre, 1200 (Game 3)
East Cavan Eagles v Winner Game 2, Virginia Sports Centre, 1500 (Game 4)