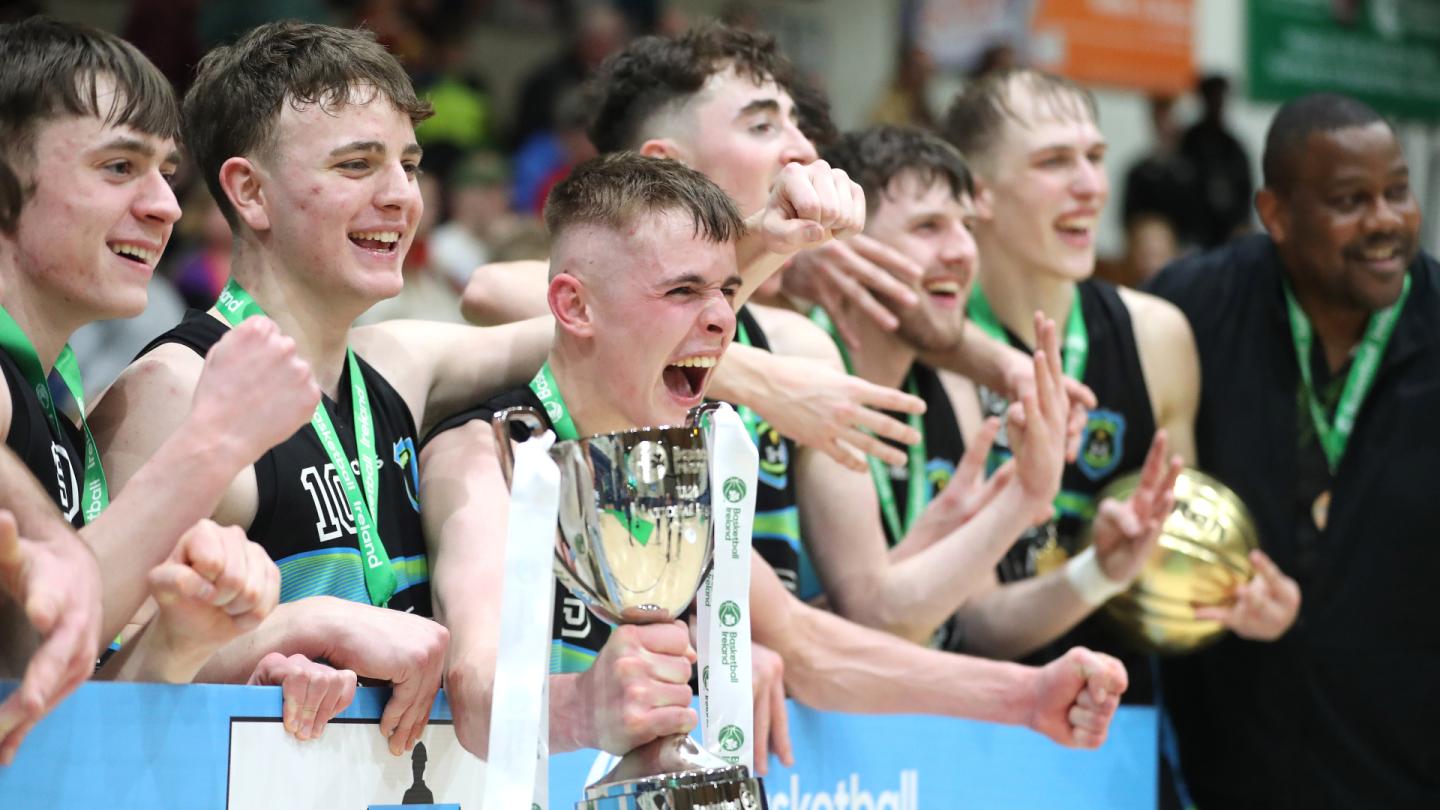 Mar 31 2023
Garvey's Tralee Warriors beat Titans 71-65 to win InsureMyVan.ie U20 Men's National League final
Garvey's Tralee Warriors had to survive a late Titans fightback before eventually defeating the Galway outfit 71-65 to win the InsureMyVan.ie U20 Men's National League Final. Garvey's Tralee Warriors led by as much as 24 points at one stage, but Titans got within three points in the final minute, but couldn't overhaul their opponents.
It was a sluggish opening as both sides struggled to get into their scoring rhythm, but it was Garvey's Tralee Warriors who were ahead, 20-15, by the end of the quarter. Daniel Bowler, who scored a game-high 22 points, finishing the quarter strongly with 6 points in the last two minutes.
Tralee Warriors continued to build their lead in the second quarter, Ireland U18 men's captain Aivaras Uosis was particularly prominent, his 10 points in the quarter included two from the three point line. Uosis ended the game with 18 points, on his way to claiming the MVP.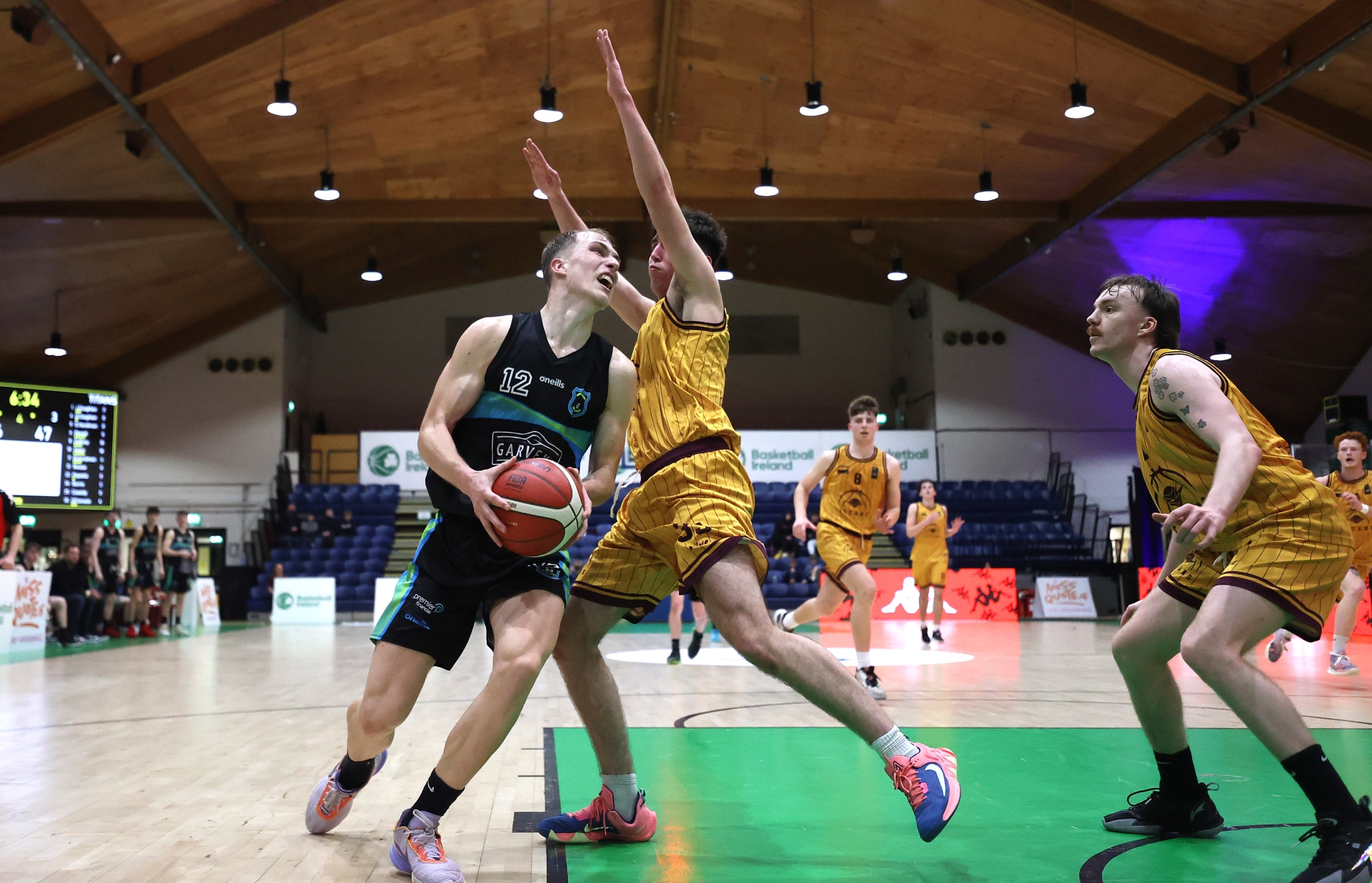 Aivaras Uosis scored 18 points for Garvey's Tralee Warriors on the way to claiming the MVP 
Garvey's Tralee Warriors took a 39-28 lead into the third and stretched that to 24 points by the time Daniel Bowler's shotclock-beating two-pointer landed midway through the quarter. Titans chipped away at the scoreboard, an end of quarter buzzer-beating three by Jackson Soper for Titans saw them trail 60-43 and seemed to rouse the Galway outfit. Head coach Ben Kelly delivered a passionate team talk ahead of fourth quarter and his team raced out of the blocks, with four points to kickstart the fourth quarter. A layup from Donal O'Sullivan stopped the Titans run and Garvey's Tralee Warriors were 62-47 ahead.
But Titans continued to plug away, a three from Brendan Hardiman and two from Brian Gaffney saw the deficit down to 10 points, 67-57, with 2'17 to go. A Joseph Coughlan layup with 1'14 to go had the Titans fans on their feet, they trailed 67-61.
The pacy Joseph Coughlan was a real menace in the fourth quarter, another layup with 34 seconds to go and it was a three point game, 68-65. Garvey's Tralee Warriors steadied the ship and picked up some points from the free-throw line, through Eddie Sheehy and Eoin Creedon, to close out a 71-65 win.
Garvey's Tralee Warriors forward and MVP Aivaras Uosis said: "That was un unbelievable game, this is a dream come true. All credit to Titans, they did not make that easy. It was a really hard-fought battle, but that makes it even more sweet at the end. They are a very strong, talented team. Anyone could have folded in the moment when you're down, but they didn't. We started fast, set the tone. That's what Tralee is all about. Luckily, we did get ahead and held on, just about."
View this post on Instagram
Q1: 14-21, Q2: 39-28, Q3: 60-43, Q4: 71-65
Garvey's Tralee Warriors: Phoenix Costello (DNP), Adam O'Keeffe (0), Eddie Sheehy (11), Coren Hughes (DNP), Eoin Creedon (6), Evan Boyle (3), Gary Lynch (5), Aivaras Uosis (18), Daniel Bowler (22), Jack Dakissia (DNP), Donal O'Sullivan (6)
Titans: Joseph Coughlan (10), Dean Coughlan (DNP), Eoin Hardiman (DNP), Ben Powell (5), Brian Gaffney (17), Jackson Soper (18), Brendan Hardiman (7), Jason Nwose (0), Michael Popoola (0), Tommy Burns (2), Sam Cassidy (0), Liam O'Conaola (6).