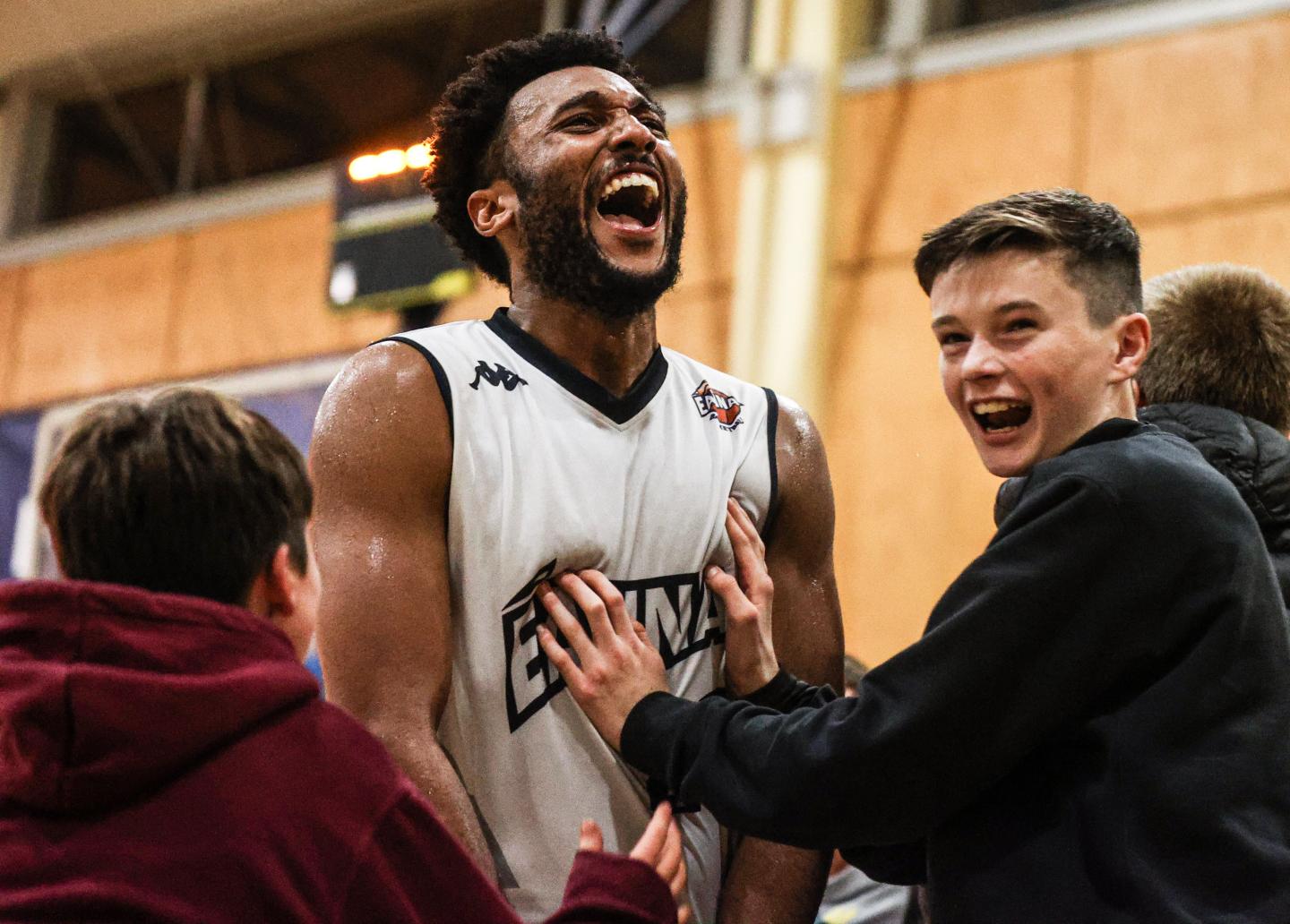 Nov 06 2022
Weekend of shocks as both defending champions defeated in opening round of InsureMyHouse.ie National Cup
Defending champions, Garvey's Tralee Warriors and The Address UCC Glanmire were both knocked out in the first week of the InsureMyHouse.ie Pat Duffy and Paudie O'Connor National Cup.
DBS Éanna's strong fourth quarter allowed them to take the scalp of Garvey's Tralee Warriors, edging out as 85-79 winners. The reigning champions had led by as much as 11 during the game, but Darren McGovern's side showed resolve to secure their spot in the next round. Daniel Jokubaitis of Garvey's Tralee Warriors led the way with 26 points, while DBS Éanna's Joshua Wilson finished on a 21 point tally.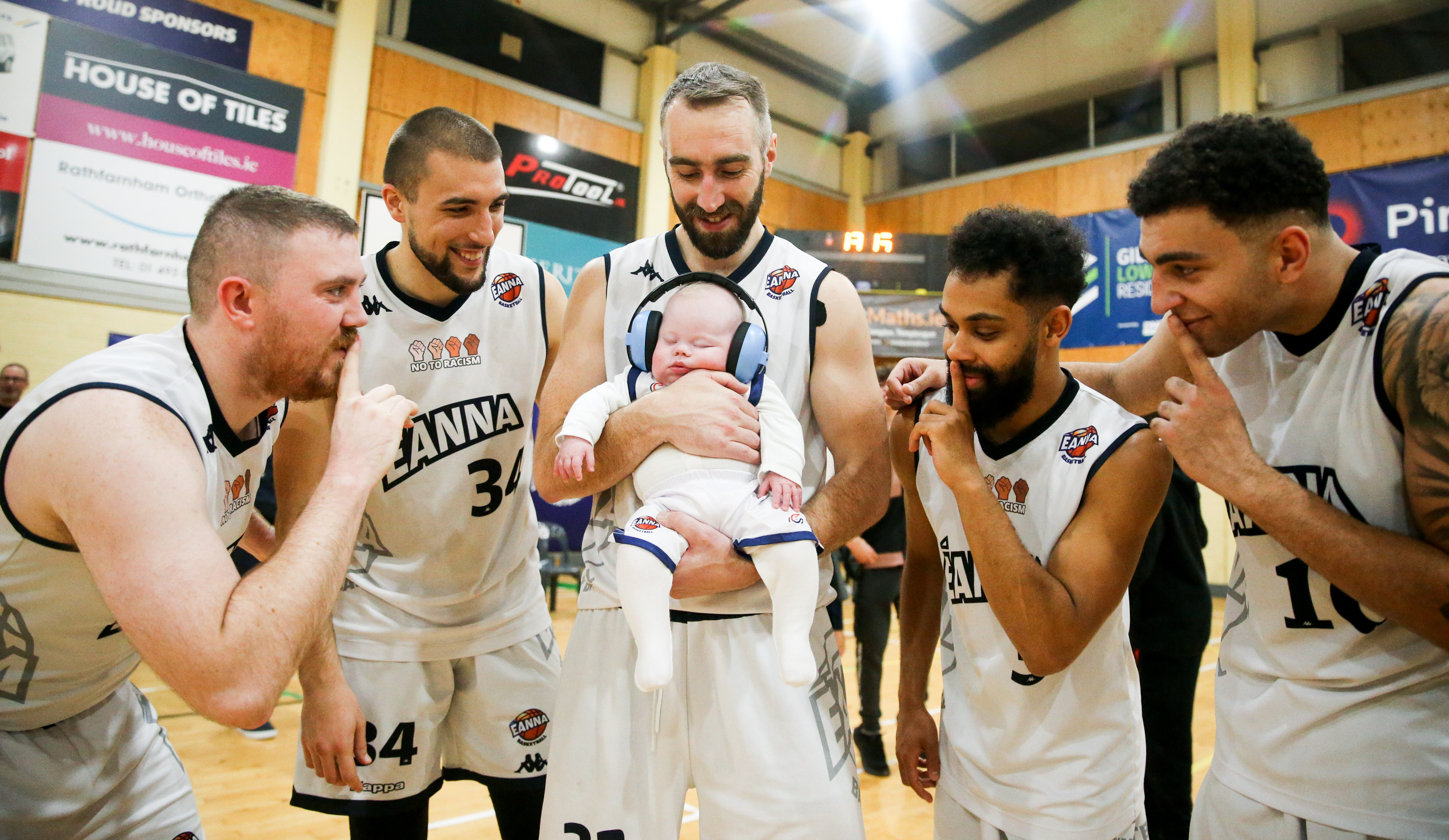 Speaking after the game, head coach of DBS Éanna Darren McGovern praised their collective spirit:
"I'm delighted. We stuck to the game plan and it paid off! We had 5 guys in double figures in scoring so it was a true team performance. I'm also happy for assistant coach Dave Doran who has been putting in hours of work in preparation for these big games and it's paying off!"
On a dark day for defending champions, Trinity Meteors got the better of last year's InsureMyHouse.ie Paudie O'Connor cup winners, The Address UCC Glanmire in a thrilling game that ended up 61-68. The seven-point margin is the same as their encounter in the MissQuote.ie Super League a fortnight ago. Brittany Byrd continued her fine season with 25, while Trinity Meteors' Dayna Finn played her way back into form with 23 of her own.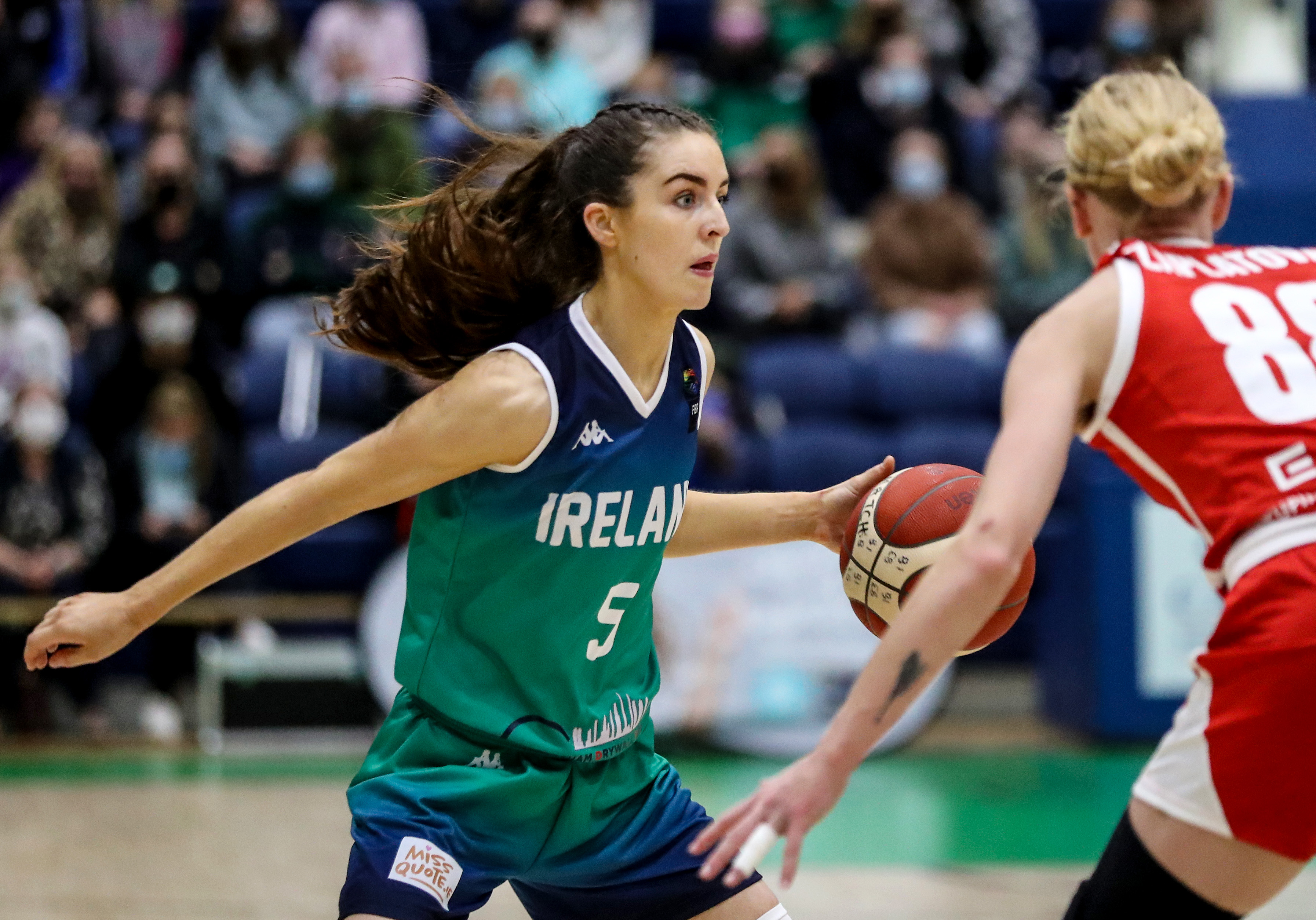 Dayna Finn
"We're delighted with the win. We were prepared for a battle, as I'm sure they were too, but Glanmire came out in the 3rd quarter to take over the game and had a lot of success. We have some excellent leaders in our group that showed real composure and I was very happy with how they executed offensively when the game was there to be won." said Trinity Meteors head coach Niall Berry
Subscribe to basketballireland.tv
The other Paudie O'Connor National Cup tie also produced a shock as Leixlip Amenities Liffey Celtics narrowly beat Singleton SuperValu Brunell 88-85. A flurry late in the third quarter set Liffey Celtics up for victory, although Singleton SuperValu Brunell did threaten in the fourth. Edel Thornton was in scintillating form, clocking up 44 points in defeat.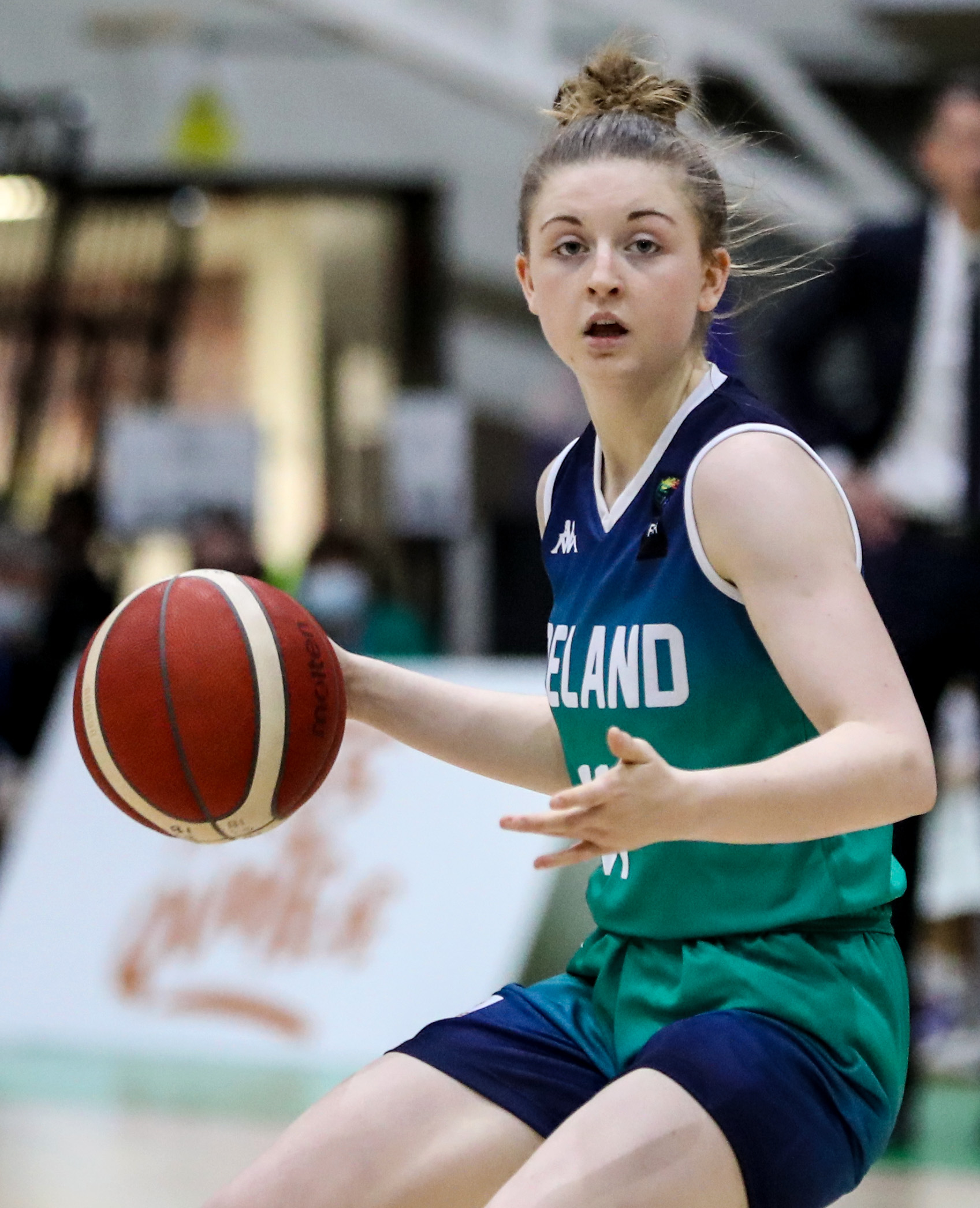 "Really exciting game. What an incredible performance from Edel Thornton. We had a great start, going 13-0 up, but Brunell came right back into it. Every time we made a run and put some daylight between us, they come right back again. Going up 14 at the end of the 3rd, that really should have killed the game off but credit to Brunell, they just never gave up. I thought, (as she has been all season), Aine O'Connor was magnificent tonight on both ends. She was absolutely everywhere for us. Her fouling out really hurt us in the 4th. It wasn't pretty and we made life really difficult for ourselves, but in cup games, nobody ever remembers the performance, it's the result that is all that matters."

We look forward to another really tough matchup against Waterford in December" said Karl Kilbride, head coach of Leixlip Amenities Liffey Celtics.
In the clash of the Cork sides, Energywise Ireland Neptune secured the bragging rights over UCC Demons with a 96-87 win, in a game featuring 11 lead changes. Nils Sabata topped the scoring charts with 37 points for Energywise Ireland Neptune.
Colin O'Reilly, head coach of Energywise Ireland Neptune credits the victory to some clutch plays by his top players:
"Both teams were very nervous in the first half and a lot of uncharacteristic mistakes by both meant no real flow, in the second half both teams found a bit more of a groove and picked each other apart. We made some big timely plays down the stretch that gave us a lead to allow finish it from free throw line."
Subscribe to basketballireland.tv
Belfast Star continued their fine run of form with a home win against Griffith College Templeogue 71-61. The visitors were in the lead for the majority of the match, but Belfast Star finished strong to secure their place in the next round. With 24 points, Belfast Star's Max Cooper led the way in the scoring bracket.
Speaking after the game, Belfast Star head coach Adrian Fulton said his team need to improve on their initial showing to have a chance at silverware:
.
"Templeogue played well again and we struggled to put the ball in the basket for long stretches. Defensively we were pretty good which kept us in the game. We improved significantly in the last quarter and finally the lid came off the basket. Max Cooper and Shon Bridges really dragged the team with them last night down the stretch. Encouraging that we can play below our best and win but that's two weeks in a row. We will need to improve if we are going to go any further."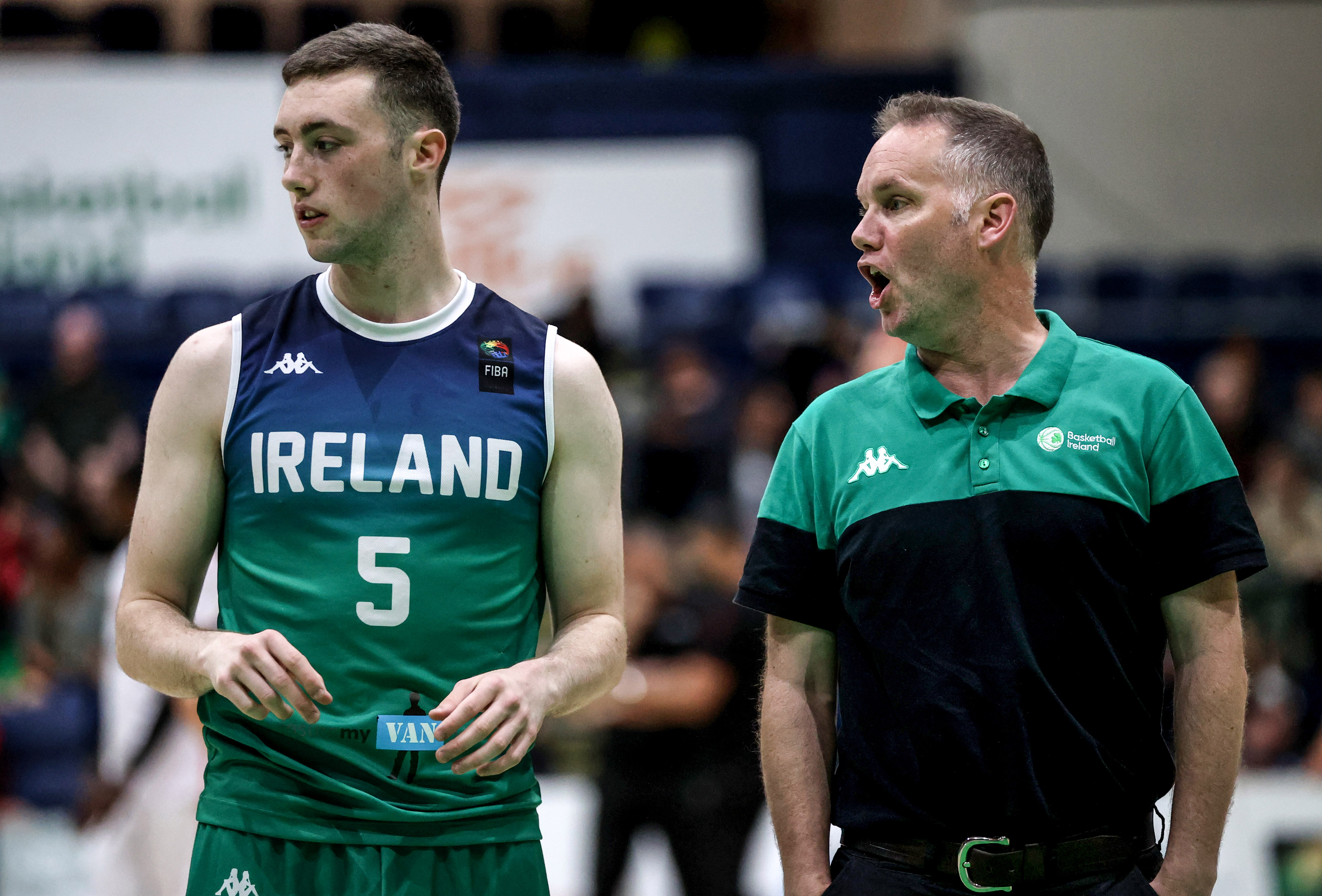 Adrian Fulton with son CJ
Another team in good stead is University of Galway Maree. In an enthralling affair, they came out on top 91-81 against Flexachem KCYMS. Jarett Haines was a standout performer with 27 points to his name.
"Tough win against a tough team. Happy with the character shown by our guys when things weren't going our way. The cup is all about getting over the line, and sometimes you have to grind out a result which is what we had to do in that game. We move onto the next round of the cup but we've got 3 league games before then and we will be working this week to prepare for Emporium Cork Basketball" said head coach of University of Galway Maree, Charlie Crowley.
Subscribe to basketballireland.tv
Emporium Cork Basketball showed their cup credentials, beating Moycullen 98-52. They led the way ever since the first, but they didn't stop there, opening up the biggest lead at the end of the fourth. Jose Jimenez Gonzales top scored with 27 points.
Speaking after the game, Emporium Cork Basketball head coach Ciarán O'Sullivan has his eyes on the next challenge.
"We are very happy to be one of the eight remaining teams in the competition. Moycullen have been devastated with injuries this season but battled very hard and didn't make things easy for us. It's a step in the right direction and we look forward now to some really important league games in the coming weeks" said Ciaran O'Sullivan, head coach of Emporium Cork Basketball.
Bright St. Vincent's saw their star man Donovan Fields score 37, as they were convincing 94-75 winners over EJ Sligo All-Stars. St. Vincent's led from the first score of the game. Stefan Zecevic kept up his good run of form with 24 points of his own.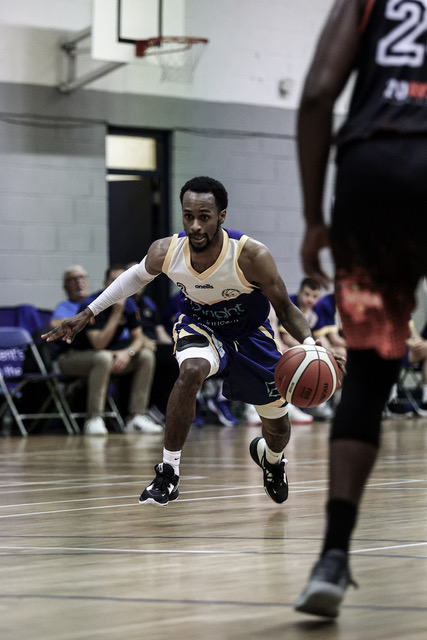 Donovan Fields via @martydot
Josko Srzic, head coach of Bright St. Vincent's praised his players for answering his rallying call:
"The players responded on a high level tonight, with concentration, motivation and readiness to fight from the start of the game. Every player played important role in the win but i have to point out great defence our team captain Martin Neary played on Sligo's best player Gregory Poleon."
In the President's National Cup, Malahide edged out a close contest against Dwyer's of Cork Fr. Mathews on an 83-80 scoreline. Trevor Recio topped the scoring charts with 25 points.
Moy Tolka Rovers are having an impressive season and that continued with a 97-50 victory over Limerick Sport Eagles. Irish international Matt Treacy was the star of the show once again with 25 points.
Ulster University's trip to face Killarney Cougars was a fruitful one, winning 88-71, buoyed by the 28 points of Conor O'Sullivan.
In another tight game, Abbey Seals Dublin Lions were victorious against Scotts Lakers St. Paul's Killarney. John Ferguson was the standout performer for the hosts with 38 points, but that couldn't stop them going down 73-70.
Drogheda Wolves have been winning their battles lately and the game against SETU Waterford Vikings was no different. Wolves stopped a late charge from Vikings in the fourth to win 76-67. Freeman Brou top scored with 28 points in defeat.
Portlaoise Panthers beat Team North West 75-64 to secure their spot in the next round. The game was a tight one with the teams level in the fourth, but the home side made the most of their shots. John Fierstein top scored with 20, but it wasn't enough to make the next round.
In the InsureMyHouse.ie Women's Division 1 National Cup, Katie Black's 21 point tally helped Limerick Sport Huskies to a 55-48 victory.
Phoenix Rockets got a win on the road, beating Swords Thunder 77-41 to book their spot in the next round. Charley McGrath topped the scoring chart with 22.
An enthralling game between Oblate Dynamos and Portlaoise Panthers saw two overtime periods, as Portlaoise Panthers did the business on a 91-89 scoreline. Megan Aho top scored in defeat with 28 points.
Abbey Seals Dublin Lions made sure of their spot in the next round with a 66-57 win over Griffith College Templeogue. Rachel Brennan's 16 points for the winners was enough to top score in the game.
InsureMyHouse.ie Pat Duffy Cup
Saturday, November 5th
Emporium Cork Basketball 98-52 Moycullen
DBS Éanna 85-79 Garvey's Tralee Warriors
Energywise Ireland Neptune 96-87 UCC Demons
Belfast Star 71-61 Griffith College Templeogue
University of Galway Maree 91-81 Flexachem KCYMS
Bright St. Vincents 94-75 EJ Sligo All-Stars
InsureMyHouse.ie Paudie O'Connor Cup
Saturday, November 5th
The Address UCC Glanmire 61-68 Trinity Meteors
Leixlip Amenities Liffey Celtics 88-85 Singleton SuperValu Brunell
InsureMyHouse.ie Presidents Cup
Saturday, November 5th
Dwyers of Cork Fr. Mathews 80-83 Malahide
Moy Tolka Rovers 97-50 Limerick Sport Eagles
Killarney Cougars 71-88 Ulster University
Drogheda Wolves 76-67 SETU Waterford Vikings
Scotts Lakers SPK 70-73 Abbey Seals Dublin Lions
Portlaoise Panthers 75-64 Team North West
InsureMyHouse.ie Women's Division 1 National Cup
Saturday, November 5th
Limerick Sport Huskies 55-48 Marble City Hawks
Swords Thunder 41-77 Phoenix Rockets
Oblate Dynamos 89-91 Portlaoise Panthers
Abbey Seals Dublin Lions 66-57 Griffith College Templeogue
Sunday, November 6th
Limerick Celtics 89-74 SETU Carlow, Crescent College