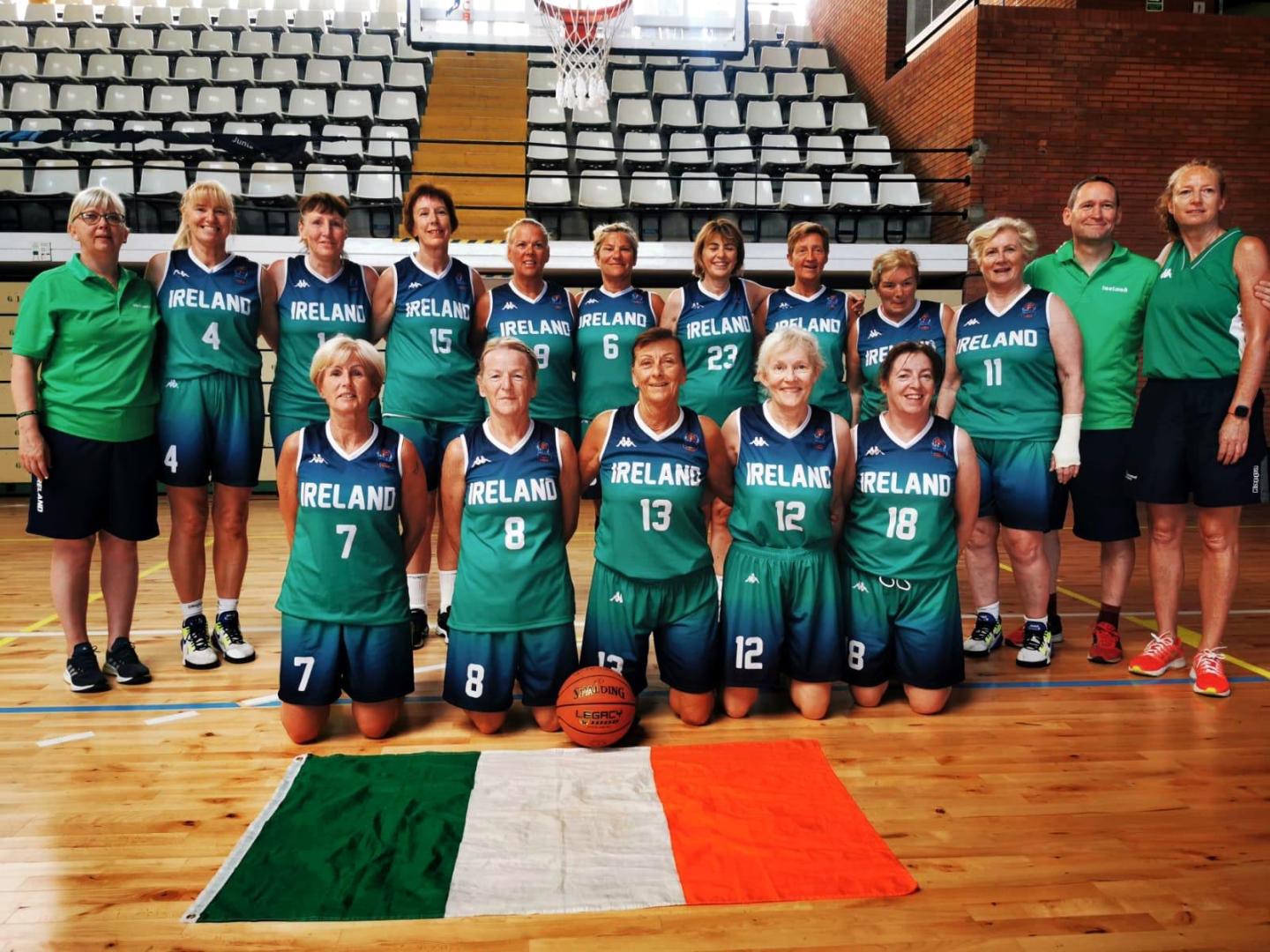 Jul 07 2022
Masters round-up: Ireland win bronze in FIMBA European Championships in Malaga
The Ireland Masters women's team finished in third place in the 2022 FIMBA European Championships in Malaga. Playing in the over 55 category, the team was led by former senior international players Carol Chubb, Maureen McDermot and Karen Hennessey.
Despite losing the third and fourth place play-off to a strong Germany side, the Irish secured the bronze medal, as Latvia failed to show for the final against Estonia.
Orla Boylan and Karen Hennessey were top scorers for the Irish on 38 points each across five games in the tournament.
Team captain Maureen McDermot said after the game "We fought to the end, I am so proud of everyone, management, every player on that team."
Karen Hennessey said:
"If somebody told me 25 years ago that I would be playing for Ireland again I would have laughed. This has been an amazing experience…so I am delighted to be holding a medal today"
Ireland was well represented in the mens over 60 section with two teams entered. Ireland A featured former senior international players Jerome Westbrooks and Pat Quirke, ably backed up by Ballina stalwart Anthony McHale and veteran American Ed Randolph.
The team lost to the top Italian side and Estonia, but rallied from an 11 point third quarter deficit to beat Croatia in overtime. A win against Austria gave Ireland A two wins out of five games.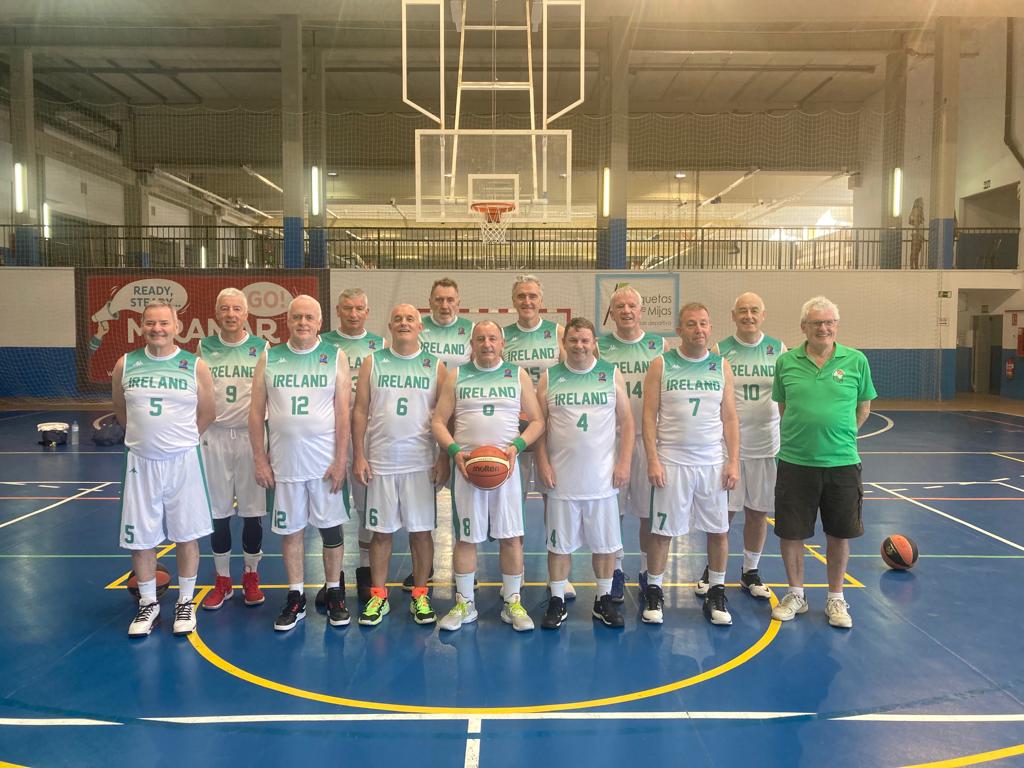 Ireland B
Ireland B were led by former senior internationals Eamon Molloy and Jim Edgar. First round losses to Italy B and Slovenia were followed by a comprehensive 56-20 victory over Germany C.
There followed perhaps the highlight of the week with a clash between the two Ireland sides.
Ireland A began with a full court press, hoping to tire out the older Ireland B side. However, the teams swapped baskets with the B side edging the first quarter 15-12. A close second quarter saw Ireland A snatch the lead with a three pointer by Todd Gfeller at the half time break.
Two free throws from Pat Quirke saw the A team stretch-the lead to 7 midway through the third quarter but 3 baskets from Michael Chubb pulled the sides level at the end of quarter 3. The B team edged in front down the stretch and finished the game winning 57-53.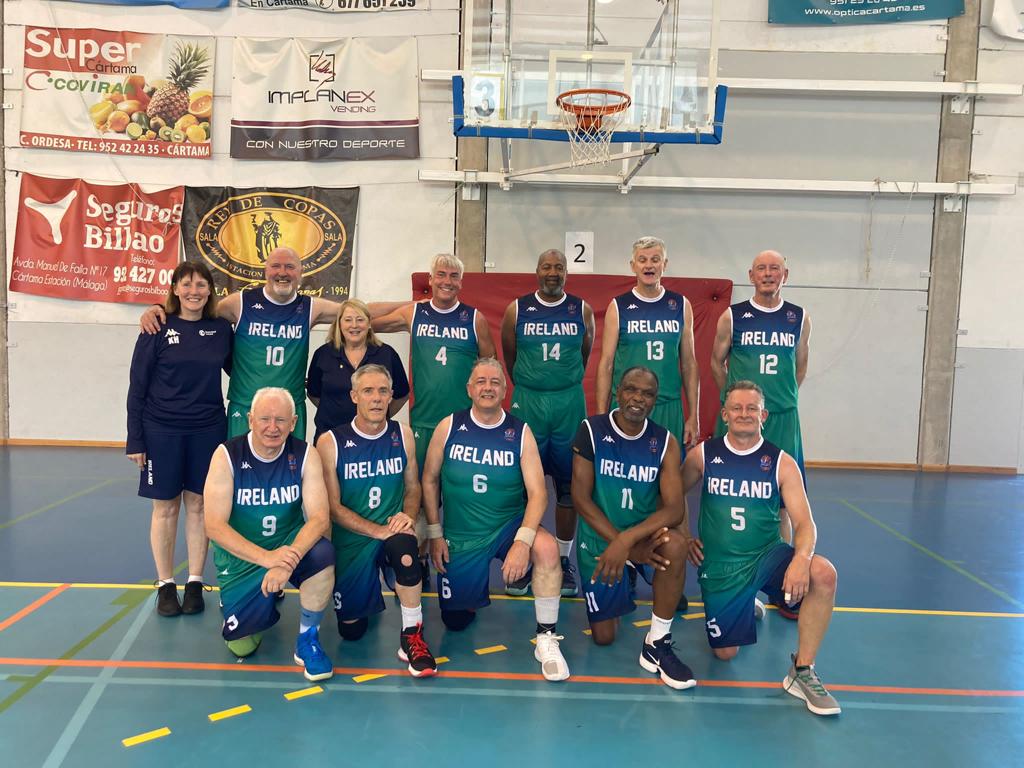 Ireland A
The following day saw Ireland A beat Austria 59-36 behind 17 points for Todd Gfeller and 13 for Anthony McHale. Ireland B struggled against the bigger Croatians and lost 33-55.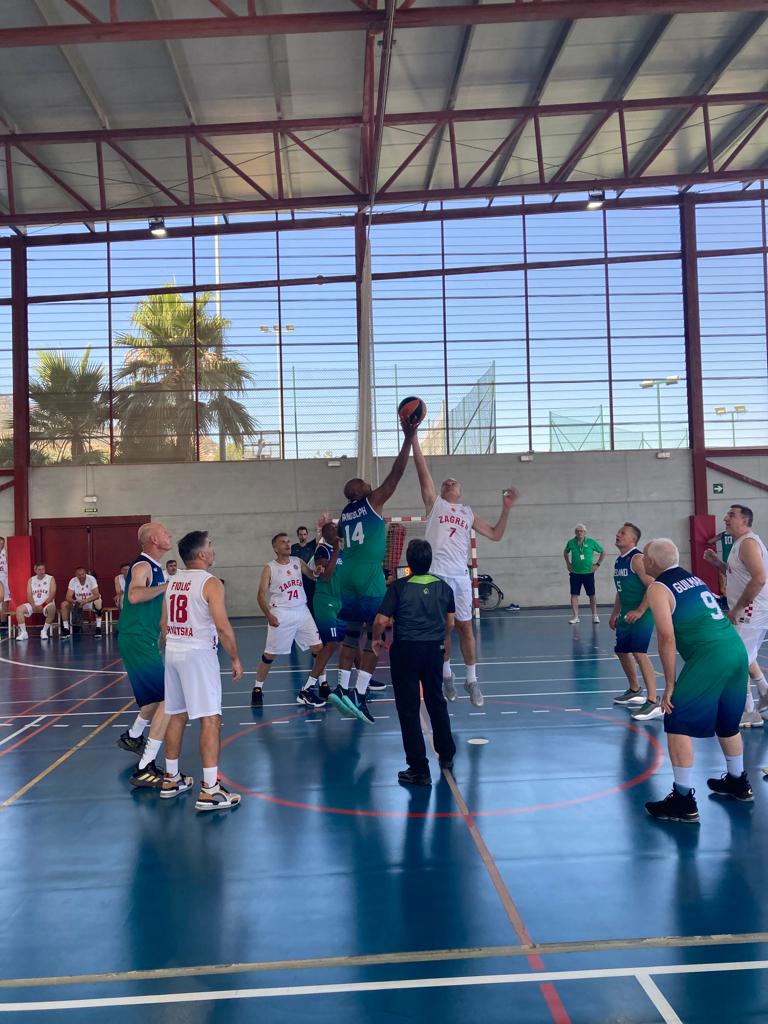 Ed Randolph of Ireland A, in action againsgt Croatia.
Jim Edgar represented Ireland in the eighties, and he was thrilled to be back.
"Forty years on, Its brilliant to be able to play for Ireland again with a green jersey on"
Eamon Molloy of Killester also enjoyed the experience. "Its a great honour to play for Ireland again and to play with a great group of lads, the camaraderie is fantastic ."
Both Irish mens over 60s teams finished with two wins out of five.
The FIMBA European Championships are held every four years and this years competition was postponed from 2020, due to COVID-19.
Results | FIMBA European Championships Malaga 2022
F55+
Ireland 38-40 Peru
Germany A 52-34 Ireland 2
Czech Republic 30-38 Ireland
Ireland 31-85 Estonia
Ireland 30-56 Germany
Team: Maureen McDermott (captain), Paula Ryan-Kavanagh (vice-captain), Fidelma Bonass, Orlaith Boylan, Carol Chubb, Jackie Clerkin, Orla Curran, Karen Hennessey, Regina Joye, Suzanne Lakes, Siobhain Monerawela, Liz Nolan, Patricia O'Connor, Therese Traynor, Debbie Flynn (coach), Colette Boylan (asst. coach), Ann-marie Lenehan (manager), Brian Hayden (physical therapist).
M60+
Ireland A 48-74 Italy A 74
Estonia 72-36 Ireland A 36
Croatia 49-54 Ireland A [AOT]
Ireland A 53-57 Ireland B
Austria 36-59 Ireland A
Italy B 58-38 Ireland B
Ireland B 27-24 Slovenia
Ireland B 56-20 Germany C
Ireland A 53-57 Ireland B
Ireland B 33-55 Croatia