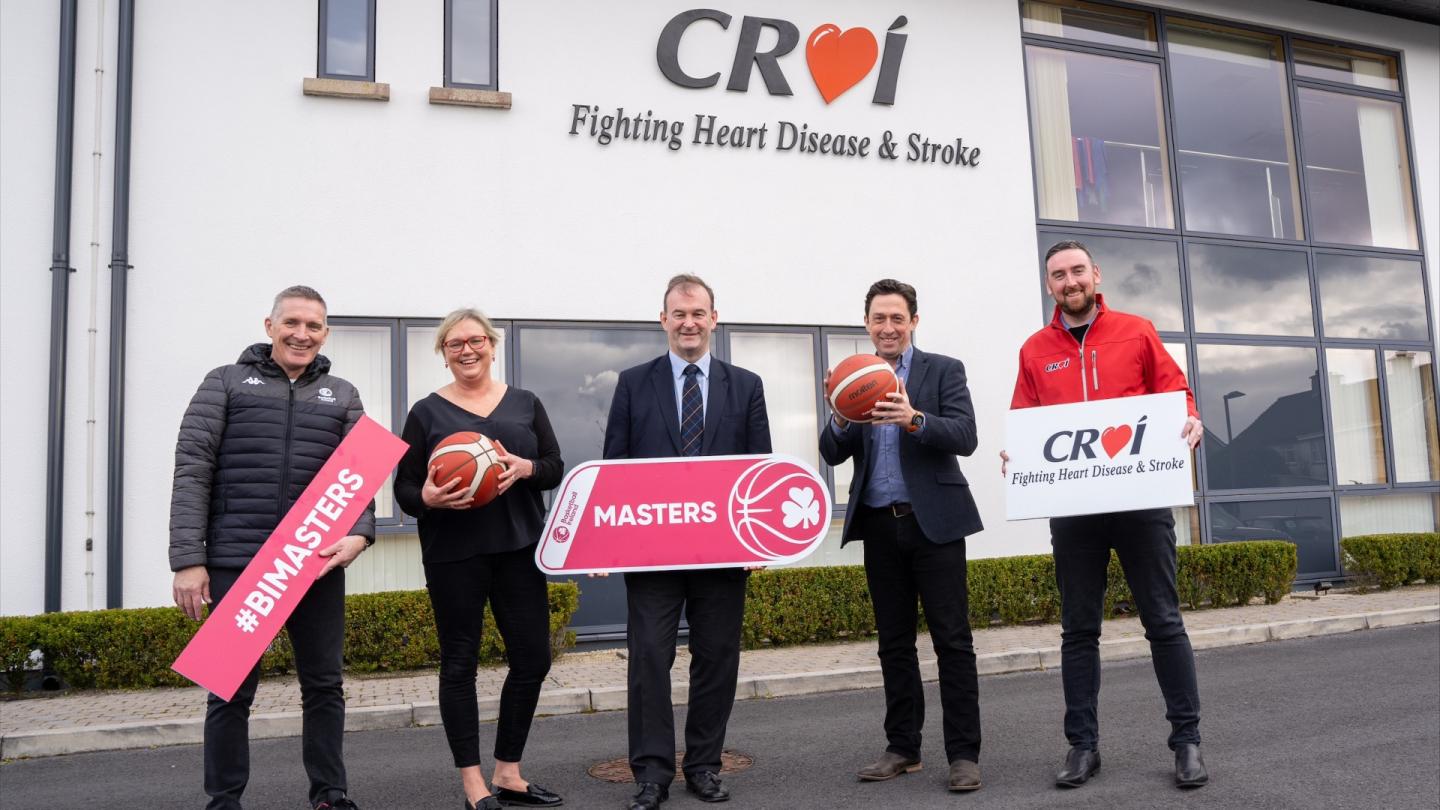 Mar 16 2023
Basketball Ireland and Croí agree partnership for Masters Basketball
Basketball Ireland and Croí have entered into a partnership, initially focusing on the Masters basketball programme, with the potential for expansion in the future.
The initiative will see a blood pressure monitoring station established at three of the premiere Masters basketball events in Ireland - the Galway Masters, Dublin Masters and Kilkenny Masters. The rollout started at the recent Kilkenny Masters, which took place from March 3rd-5th. This service will be available free of charge to players, friends and family for the duration of each tournament.
Basketball Ireland CEO John Feehan said of the partnership: "This initiative between CROI and Basketball Ireland is a perfect fit, as the health and wellbeing of our members is paramount to our organisation. This association with Croí will help to maintain this. We look forward to a great and healthy working relationship in the future and one that can grow in many areas."
Donation baskets will be available to those availing of the service at each Masters tournament venue.
"We at Croí are delighted to join Basketball Ireland in this exciting partnership, particularly as the initial focus is on the Masters players, who are great exemplars for maintaining regular exercise and physical activity through all phases of life, as well as having strong social connections," Mark O'Donnell, Head of Foundation and Chief Operations Officer of Croí, said.
"Both very important factors in maintaining long term health and wellbeing. There is significant potential to further develop and deepen this partnership across a range of activities and locations over time, and we very much look forward to working closely with the Basketball Ireland team in this regard," he added.
Mike Murray, Basketball Ireland's Masters programme lead and Director of Basketball at University of Galway, said: "The partnership fits very well with Sport Ireland's 'Aged in Sport' initiative. It also highlights the duty of care approach to Basketball Ireland's Masters programme. Linking with Croí for this initiative aims to throw a spotlight on Atherosclerotic Cardiovascular disease (ASCVD), sometimes referred to as the 'silent killer' and the importance of checking your blood pressure."
ASCVD is a prominent cause behind heart attacks and stroke, and accounts for 85% of cardiovascular related deaths. There are many factors that may contribute to ASCVD including family history (genetics), smoking, obesity, physical activity, diet, high cholesterol levels, high blood pressure and diabetes. Almost 40% of the adult population is at risk of ASCVD and it is too often undiagnosed until a cardiovascular event, such as a heart attack or stroke occurs.
Annie Costelloe, Croí Patient & Community Engagement Manager, concluded: "Croí are delighted to partner with Basketball Ireland in raising awareness of the importance of good cardiovascular health as we age. Having our Croí cardiovascular nurse specialists on site at Basketball Ireland events will give the community the opportunity to hear more about the significant risk factors contributing to heart disease and stroke and get some important tips on how to take action to reduce this risk. Knowing your numbers, maintaining healthy blood pressure and cholesterol levels, taking regular exercise, and having a healthy weight are all linked to a healthy heart and to reducing your risk of a serious cardiac or stroke event."