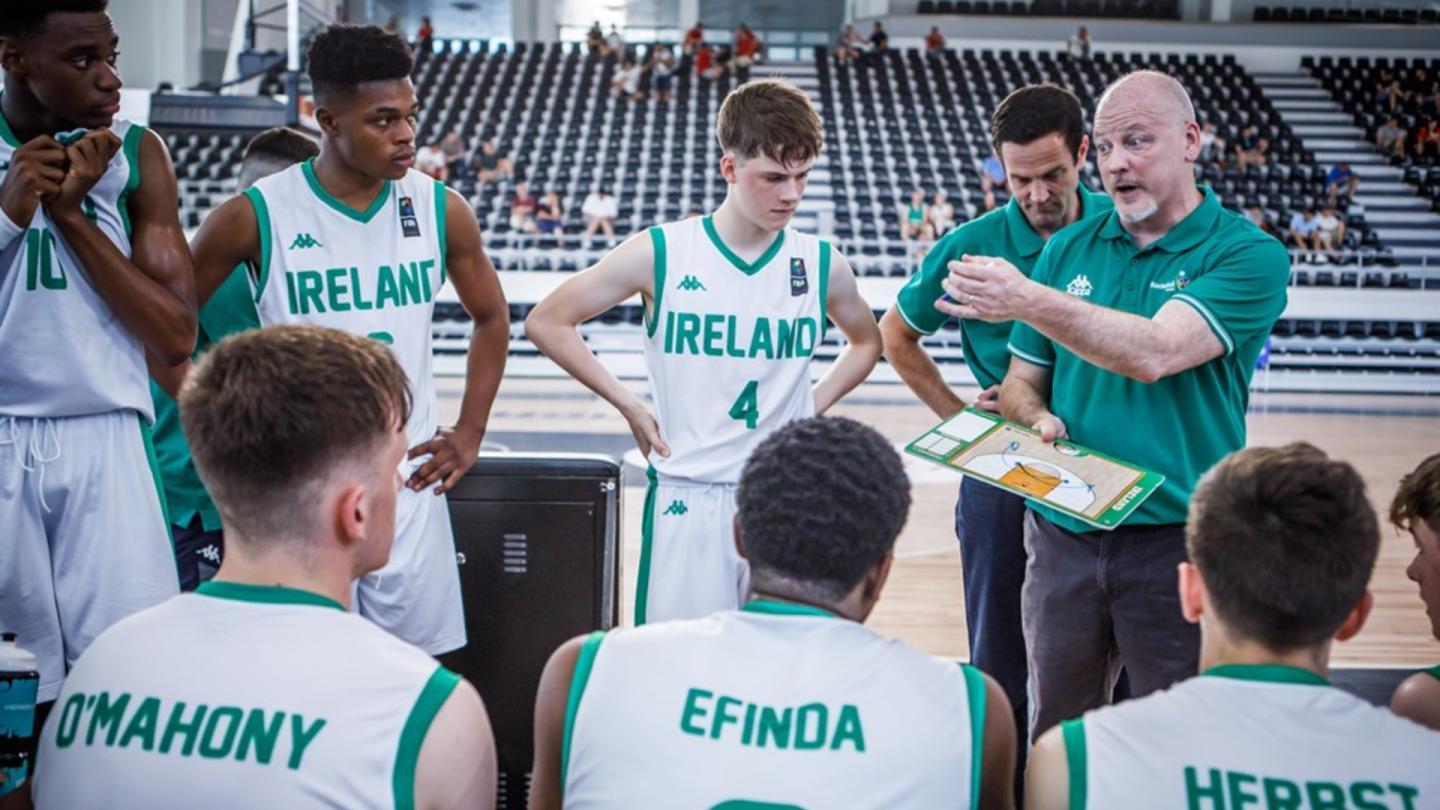 Nov 30 2021
Pat Price names Ireland U16 mens panel for coming year
Ireland U16 mens head coach Pat Price has named his panel for the upcoming season. The panel is 31 players strong, with just one player born in 2007, the rest born in 2006.
Speaking on his selection, head coach Pat Price is excited to begin developing this panel:
"After a very productive weekend training camp at the Kerry Sports Academy, we move ahead with our next phase of squad selection. The players have given us a lot to think about, and we're excited to move forward to our December training camps. We'll also continue to monitor and solicit feedback from coaches on the many players who've put themselves forward for the program."
Ireland U16 mens panel 21/22:
| | | | | | |
| --- | --- | --- | --- | --- | --- |
| FIRST | SURNAME | DOB | Height | CLUB /SCHOOL | Position |
| Kacper | Baran | 2006-03-18 | 6'2 | Mercy Ballymahon Secondary school | Guard |
| Matthew | Barry | 2006-08-27 | 6'1 | Limerick Celtics | Guard |
| Jack | Collins | 2006-02-06 | 6'3 | Malahide basketball club | Guard |
| Dennis | Dickson-Matthews | 2006-12-04 | 6'0 | Crescent College Comprehensive | Guard |
| Tomas | Kennedy | | 5'10 | Tralee Imperials | Guard |
| Dean | Kiernan | 2006-05-12 | 5'9 | Eanna Basketball Club | Guard |
| Luke | Long | 2006-02-26 | 6'3 | Dublin Lions | Guard |
| Conor | Mac Críosta | 2006-05-30 | 5'8 | Drogheda Wolves | Guard |
| Ciaran | McCarthy Duffy | 2006-07-01 | 6'0 | Fr Mathews | Guard |
| Stephen | O'Donovan | 2006-12-12 | 5'11 | Bantry Basketball Club | Guard |
| Cillian | O'Connell | 2006-11-18 | 6'0 | Portlaoise panthers | Guard |
| Senan | Ryan | 2006-06-23 | 6'2 | Killester | Guard |
| Harry | Scully | 2006-10-16 | 6'0 | Dublin Lions | Guard |
| Luke | Seltzer | 2006-09-03 | 6'3 | Templeogue BC | Guard |
| Viktor | Tashev | 2006-07-12 | 6'1 | Titans BC | Guard |
| Ceadan | Ash | 2006-07-15 | 6'7 | Eanna Basketball Club | Forward |
| Ebenezer | Ehigie | 2006-12-23 | 6'4 | Drogheda Wolves | Forward |
| Declan | Gbinigie | 2006-09-16 | 6'4 | Titans BC | Forward |
| Fortune | Igbokwe | 2006-03-14 | 6'4 | BC Tauras | Forward |
| Jakub | Malecki | 2006-10-27 | 6'6 | Drogheda Wolves | Forward |
| Fionn | O'Meara | 2006-04-25 | 6'6 | Nenagh Warriors | Forward |
| Pharrell | Osagie | 2006-06-03 | 6'4 | Mallow BC | Forward |
| Patryk | Rejkowicz | 2006-11-01 | 6'4 | Limerick Lions | Forward |
| Tom | Sinnott | 2006-06-27 | 6'3 | Templeogue Basketball Club | Forward |
| James | Toloczko Janas | 2006-06-02 | 6'2 | Eanna Basketball Club | Forward |
| Finn | Walsh | 2006-04-25 | 6'4 | Drogheda wolves | Forward |
| Sean | Mackey | 2006-12-07 | 6'2 | Sussex Storm | Guard |
| Finn | Boylan | 2006-06-03 | 6'2 | Ongar Chasers | Guard |
| Simon | Murphy | 2006-01-06 | 5'10 | Donabate BC / Belvedere College | Guard |
| Lorcan | Beard | 2006-03-31 | 6'3 | | Forward |
| Darragh | Horkan | 2007-01-08 | 6'1 | Limerick Lions | Guard |