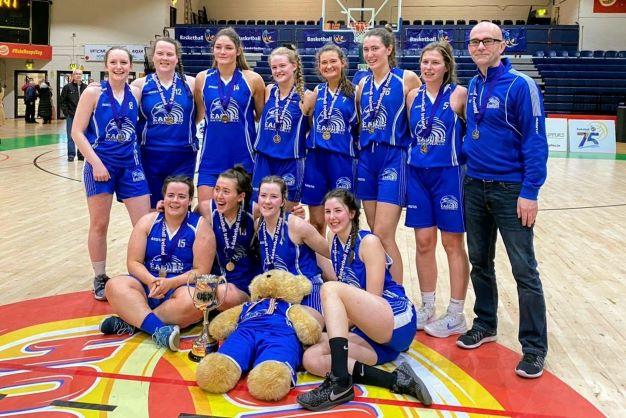 Dec 07 2021
East Cavan Eagles achieve Bronze Club Mark
A big congratulations to East Cavan Eagles on achieving the
BI Bronze Club Mark
. We spoke to East Cavan Eagles PRO Bernard Sheridan about the club and achieving the Bronze Club Mark:
East Cavan Eagles -
Twitter
/
Facebook
Q1: What made you want to try to achieve the Basketball Ireland Club Mark?
Our club looked at the Bronze Basketball Ireland Club Mark as a way of establishing the minimum standard that we as a club wanted to achieve to ensure that the governance in our club meets our players' and volunteers' expectations. It brings all the policies together that are required to successfully run and maintain a basketball club into the future.
Q2: How did you find the Basketball Ireland Club Mark process?
It was a bit of a challenge to get everything in place with so many coaches and volunteers. Then bringing our regulations up to date to meet the standards required by BI, Sport Ireland and our Club. But anything worth doing is worth doing right. The templates provided by Basketball Ireland are a huge help along with the valued assistance from BI Development officer Paul Carr. It certainly has brought club policy & procedures up to date and helps focus the Club.
Q3: Can you tell us a bit about your club - how many teams do you have, when the club was founded and some achievements/highlights?
East Cavan Eagles Basketball club was founded in 2012; originally it started with boys teams but soon expanded to include girls. The club began with nine teams and six coaches. It is now by far the largest rural club in the North-East region with over 300 members, 14 teams and players that range from Academy, Inclusion, U12 to U20's, Masters and culminates with our Senior Ladies & Men's Teams. The popularity of the game locally has meant we have four underage double teams as numbers swell. We have an amazing academy with approximately 75 young people who are enthusiastic, energetic and willing to learn this great sport.
This season because of our efforts to obtain the Bronze Club mark we signed up to the Cara Inclusion Charter and have created our Inclusive basketball team, as part of our club basketball for those who have challenges in life but would like to be included and participate in Basketball. We have a group of coaches and players who give of themselves to volunteer to run our Inclusive basketball.
In 10 years we've grown from six to 39+ coaches and managers, who continue to engage and improve the standards of both play and players within our club. Along with all this are our hard working and diligent committees, who endeavour to challenge our club to reach new heights and expectations every season.
We also have an unbelievable group of volunteers, without whom the club would fail to run smoothly. These comprise of parents who supervise and help out before and after games, as well as our table officials who are a credit to our club and the league and commit to the highest standards. Finally we have our Referees who year in, year out, officiate to the highest level both at a club, regional and school levels.
From the very start we have always promoted the enjoyment aspect of the game and with this comes success. We strive every season to be competitive within our leagues and local cup competitions. Our underage teams over the seasons have represented at AICC level and continue to enjoy this national experience.
East Cavan Eagles players and coaches are ambitious in their love of the sport and over the years we have been very proud of those who have been chosen to represent our region and country. In the past we have had players selected to represent Ireland at underage level. Most notably Aoife Maguire who captained her country in Europeans at U16 level in 2014 & played at U18 in 2016. Ciara Tolan at U18 level in 2019 and Casey Mulvey at U16 level in 2019 and Ben Kelly Flynn at U17 level. Up until Covid-19 upset things, we had numerous players in regional squads and Niamh Tolan & Casey Mulvey in International selection squads.
It's a great achievement when individuals and teams get recognition. Aoife Maguire received National underage Player of the Year twice. At local level through the Annual Anglo Celt Newspaper Awards night, our game is on a par locally with the big three (GAA, football & Rugby).
Our club has always been progressive and ambitious. In 2015 our girls team entered their first U18 National Cup, getting to the semi final stage. A few years later in 2018 our club took the decision to enter our senior ladies into the National Intermediate Cup and in 2020 this paid off when our Ladies team had an amazing weekend winning our first ever National Intermediate Cup title.
Our club is part of the community and welcomes everyone. We have a great relationship with many of the surrounding secondary schools, especially Virginia College where we are anchor tenants and work closely together in all aspects of basketball.
Q4: What challenges do you face in the club if any?
Our main challenge at the moment in Covid times will be to keep training & playing games in a safe environment for everyone. This pandemic has robbed us all of precious time together, not just as a basketball club, but as a family.
As a club we try to face challenges head on. Alongside Virginia College we have helped improve the playing facilities, new floor surface and score board, signage etc. At this time we are in the process of getting up and running an extra training and playing facility to facilitate growing numbers and training time.
Sponsorship and finance are always a challenge but the support of local sponsors along with fundraisers keep us going.
Q5: What difference is the Basketball Ireland Club Mark going to make for your club?
It has set goals for our club. The bronze mark ensures a good strong foundation for our club, good governance and best practice, and by achieving this our club will be strengthened and future proofed.
Q6: Do you think you will engage with the Club Mark system and achieve all the way up to Platinum Club Mark? If so, what do you need to do to get your club to this stage?
Our club looks forward to engaging with the Club Mark system and see it as part of our progression in building a stronger, more inclusive and successful club.
Q7: What are the goals for the season ahead?
While we are delighted to resume playing we want to make sure we do so in a safe manner for all our members, volunteers, patrons and those visiting our club. With our players having missed out on over a full season especially at underage, our main goal will be bridging the skills gap created by no team training or physical engagement. We also hope those who were in regional and International programmes will also be able to continue their progression.
Our senior teams, along with our U18 girls, will look forward to getting back into club & Cup action. A delay to the U18 National Cup will hopefully see it resume in January. The ladies would love to try to add to their 2020 National Intermediate Cup victory, while the men will always strive to make a first ever National Cup final.
Finally, we look forward to seeing our great supporters back in our gym - fully masked of course - and cheering us on.
Q8: What would you say to other clubs thinking about getting involved in the Basketball Ireland Club Mark?
We would encourage all clubs to sign up to the Club Mark system. It ensures that all clubs are fully compliant with the basics of best practice and governance and is the cornerstone to a strong & successful club.