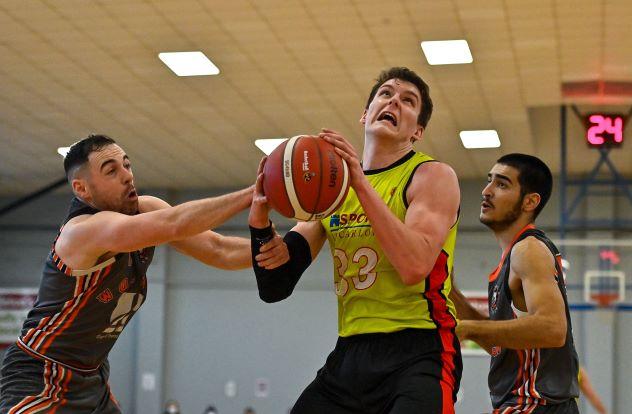 Jan 08 2022
Drogheda Wolves advance to President's Cup final following thrilling 74-72 victory over IT Carlow
Drogheda Wolves advanced to the InsureMyHouse.ie President's Cup final earlier today, following their thrilling 74-72 victory over IT Carlow in the semi-final.
The first semi-final of the President's Cup proved exciting as both Drogheda Wolves and IT Carlow started aggressively. Superb passing from IT Carlow resulted in quick layups for the midlands side. Their lead increased thanks to a steal and layup by Jordan Flynn. However, Drogheda Wolves answered back with a huge three to stay in touching distance. The Drogheda crowd rallied for their team as they trailed by 3 at the end of the first quarter.
IT Carlow's passing continued to make a difference for them, as they made easy baskets throughout the second quarter, and the pace of the game proved difficult for Drogheda Wolves. Nate Shafer increased his tally to 14 points after an athletic and-one play, which was well received by the IT Carlow supporters and head coach Martin Conroy.
A technical foul was called on Lucas Walford which further added to IT Carlow's lead. Three-pointers from Ciaran McGroggin and Adam Mullally kept Drogheda Wolves in the game, but it was IT Carlow who had the upper hand as halftime arrived. Nate Shafer led the game scoring at this point, with 16 points at the half.
IT Carlow started the second half strong as Jordan Fallon and Nate Shafer linked up well, with a textbook roll to the basket for an easy layup. Adam Mullally and Guilherme Alves Vilela helped Drogheda Wolves cut the deficit to 6 points. Drogheda's resilience continued to pay off as the game tied up at 48 points apiece with 2:55 remaining in the 3rd Quarter. Lucas Walford's crafty footwork resulted in a huge score to help Drogheda take the lead with 2 minutes left. However, IT Carlow soon swung back into the lead as a shot clock violation upset Drogheda's momentum. A layup for Eoin Hackett followed by a buzzer-beater three-point shot to wrap up the third quarter by Jordan Fallon, kept IT Carlow in the lead, with Drogheda Wolves on 50 & IT Carlow on 54.
Drogheda Wolves opened up the last quarter with a score from Jubril Alada, however they lost Guilherme Alves Vilela with injury. Nate Shafer continued to display his athletic ability, grabbing rebounds and blocking Drogheda's drives to the hoop. Ben Kelly Flynn had the Drogheda defence on skates with his in-and-out dribble, and finished his attack with a finger roll layup, increasing the lead to 6 for IT Carlow with 6 minutes remaining. Ciaran Mc Groggin answered back with a high floater off the glass, which was soon followed by a huge rebound by Drogheda's Lucas Walford to bring his team back within inches of their opposition.
Free throws were key to the fourth quarter as both teams drove hard at the basket, eager to earn their place in the President's Cup Final. Crucial threes from Ciaran and Padraig Mc Groggin were celebrated by the Drogheda Wolves bench as they led by 3 with 4 mins 32 seconds left, however a quick answer from Nate Shaffer diminished their initial impact on the game. The scores continued for Drogheda Wolves as Ciaran Mc Groggin hit a huge three-pointer from way downtown to increase their lead to 5 points. Adam Mullally further added to the lead with an athletic finish. Threes from Eoin Hackett and Jordan Fallon proved insignificant as Drogheda Wolves claimed victory; 74 points for Drogheda Wolves, 72 points for IT Carlow.
Drogheda Wolves Head Coach Gavin Gartland noted the intensity and thrill of the Semi Final. "A fantastic game, the intensity was top notch and you couldn't ask for more than a one basket game. Carlow went out and attacked us very well to start, they're used to this intensity being in the cup semi-finals the last 3 years but just like all season our boys have adapted and completed and we got back into the game.

"We don't play zone that much but we had to protect the basket, and I think that changed the momentum a little bit, but all of the players contributed it was absolutely fantastic and it's a great shout out to all of the volunteers at Drogheda Wolves what they've done so far for our first season to get experience and to get to the final."
Top Scorers
Drogheda Wolves - Lucas Walford (18), Padraig Mc Groggin (14), Ciaran Mc Groggin (12)
IT Carlow Basketball - Nate Shafer (33), Kevin Donohoe (18), Ben Kelly Flynn (16)
Drogheda Wolves
Denzel Ebose(0) Ciaran Mc Groggin (12) Wede Esajobor (0), Kevin O'Hanlon (2), Padraig Mc Groggin (14), Steven Safo (0) Adam Mullally (10) Guilherme Alves Vilela (4), Cian Crowley (0), Jubril Alada (10), Tiago Dos Santos Pereira (3), Lucas Walford (18)
IT Carlow
Ben Kelly Flynn (16) Jordan Fallon (5) Sebb Uglis (0) Aaron Whelan (1) Ben Kavanagh (0) Kevin Donohoe (18) Jake Conroy (Injured) Jack Kehoe (0) Mateo Plaza Reino (0) Armand Vaikuls (2) Roland Vaikuls (0) Eoin Hacket (7) Nate Shafer (33)