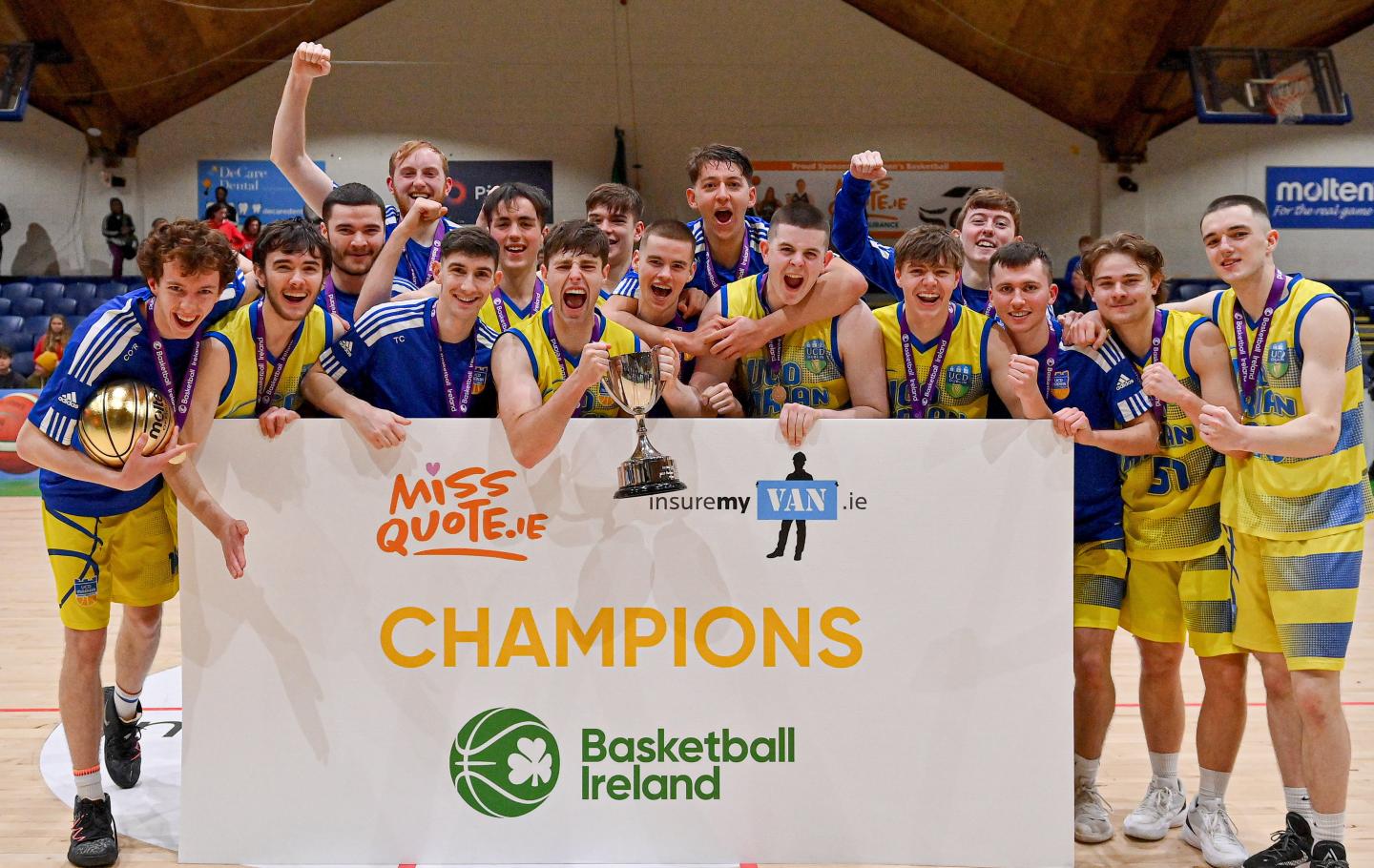 Apr 03 2022
UCD Marian defeat Quishs Ballincollig 84-68 in InsureMyVan.ie U20 Men's National League final
UCD Marian are the InsureMyVan.ie U20 Men's National League champions, defeating Quishs Ballincollig 84-68 in the final at the National Basketball Arena.
It completes the double for UCD Marian's U20's, having also won the InsureMyHouse.ie Men's U20 National Cup in January. UCD Marian forward Colm O'Reilly picked up the MVP, following his 20-point and 10-rebound performance. It is his second finals MVP of the season, having also been awarded it in the Cup final.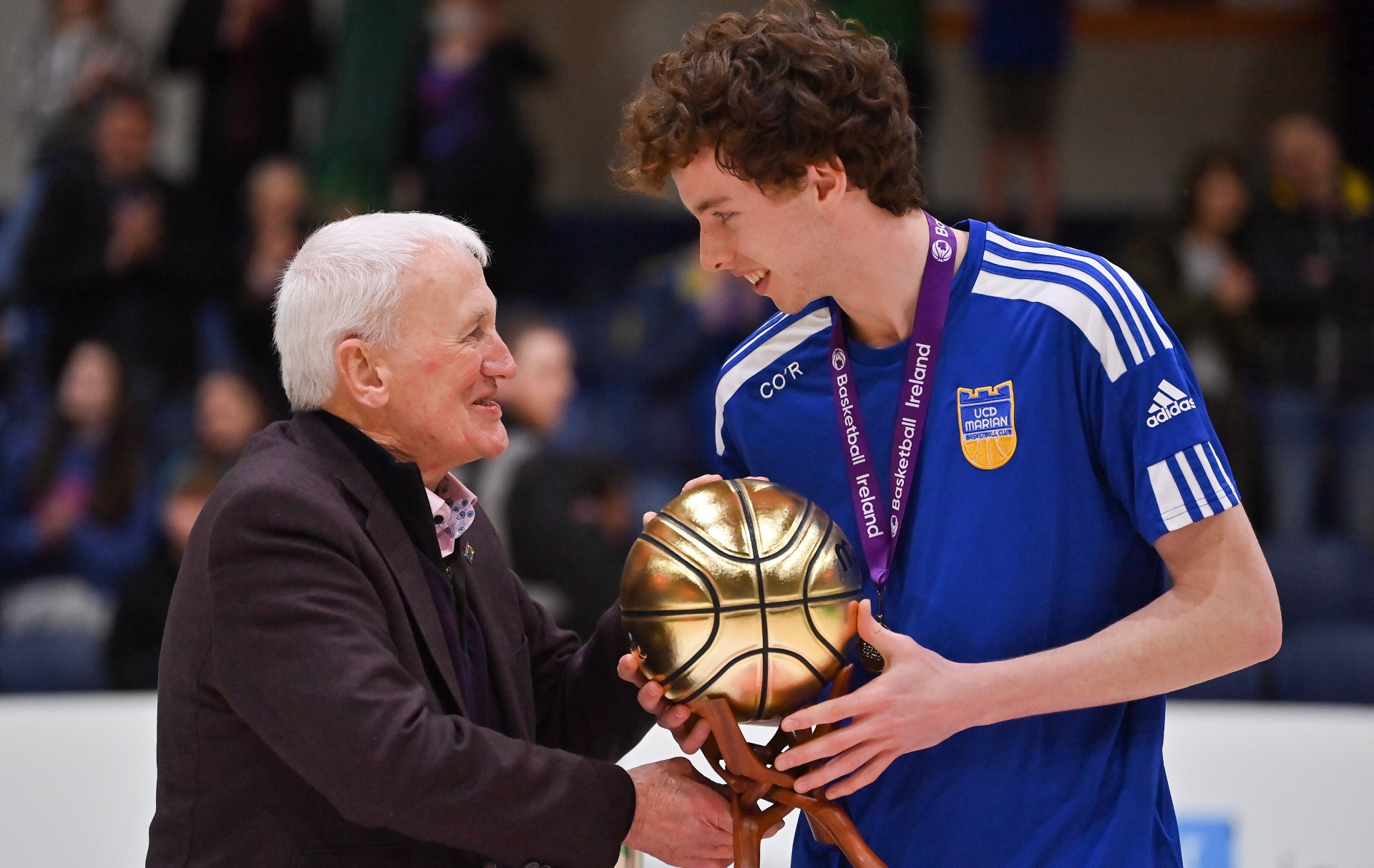 Colm O'Reilly is presented with his MVP by Basketball Ireland board member Tony Burke
UCD Marian established an early eight point lead, 14-6, following O'Reilly's layup, but Brendan Doulana's three 30 seconds later helped reduce the deficit. It would be Quish Ballincollig who'd lead at the end of the quarter, Rory O'Flynn's three point jump shot at death made it 21-20 to the Cork club.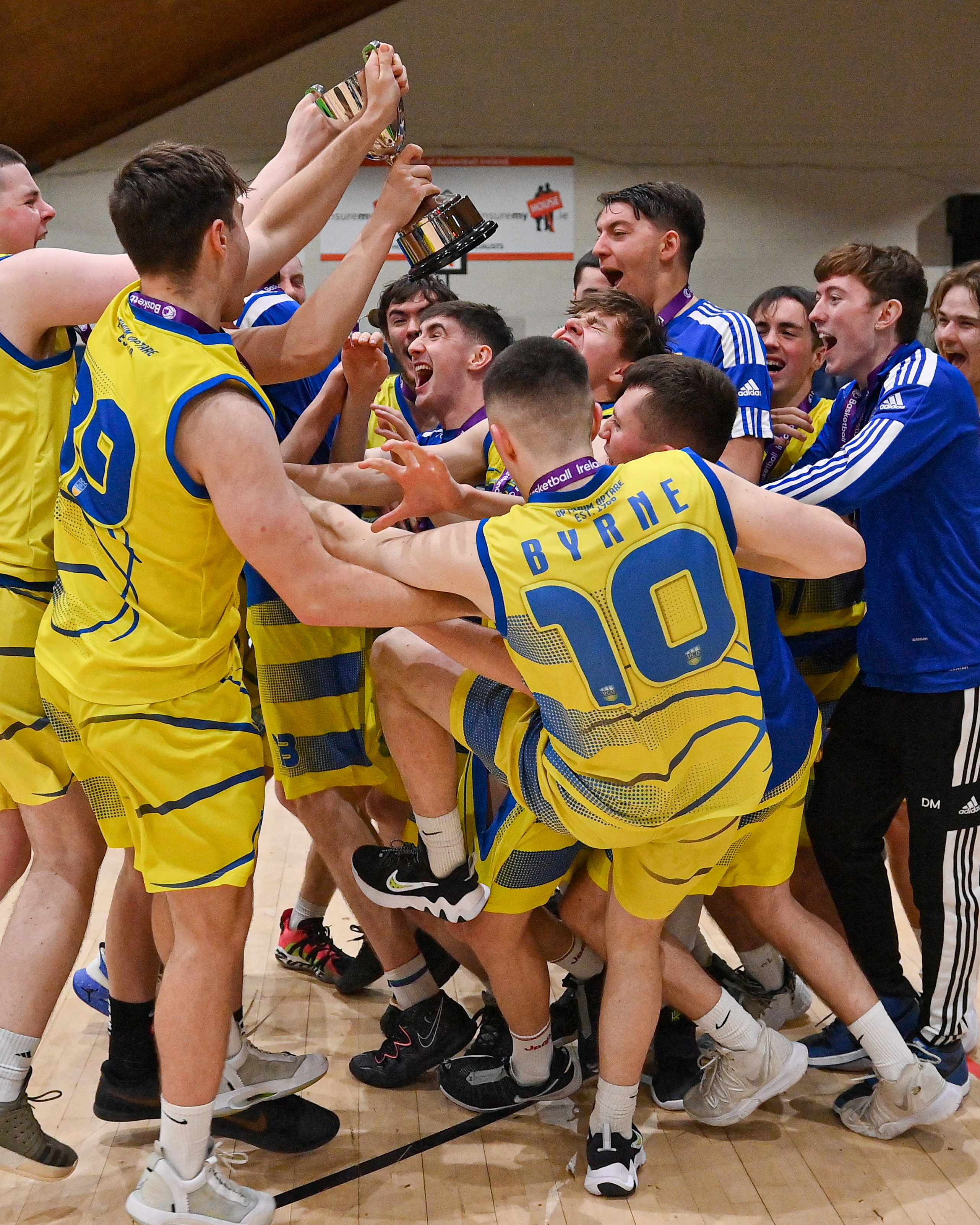 Pauric Moran's three point jump shot two and half minutes into the second quarter saw UCD Marian into a 27-23 lead. Back-to-back threes for Ballincollig captain Sean O'Flynn, helped them back in front, 31-29, in the fifth minute of the second quarter. UCD Marian head coach Fran Ryan called for a timeout, the sides exchanged points after that, before a six point run helped UCD Marian re-establish a lead, 35-33.
A three from the edge from Colm Blount, brother of Ireland senior international Jordan Blount, put Ballincollig back in front with a little over two minutes to go, 36-35. In response Brian O'Hara Duggan's layup and two three pointers from Conor Walsh and Luke Gilleran, either side of a Blount layup, saw UCD Marian lead 43-38 at half-time.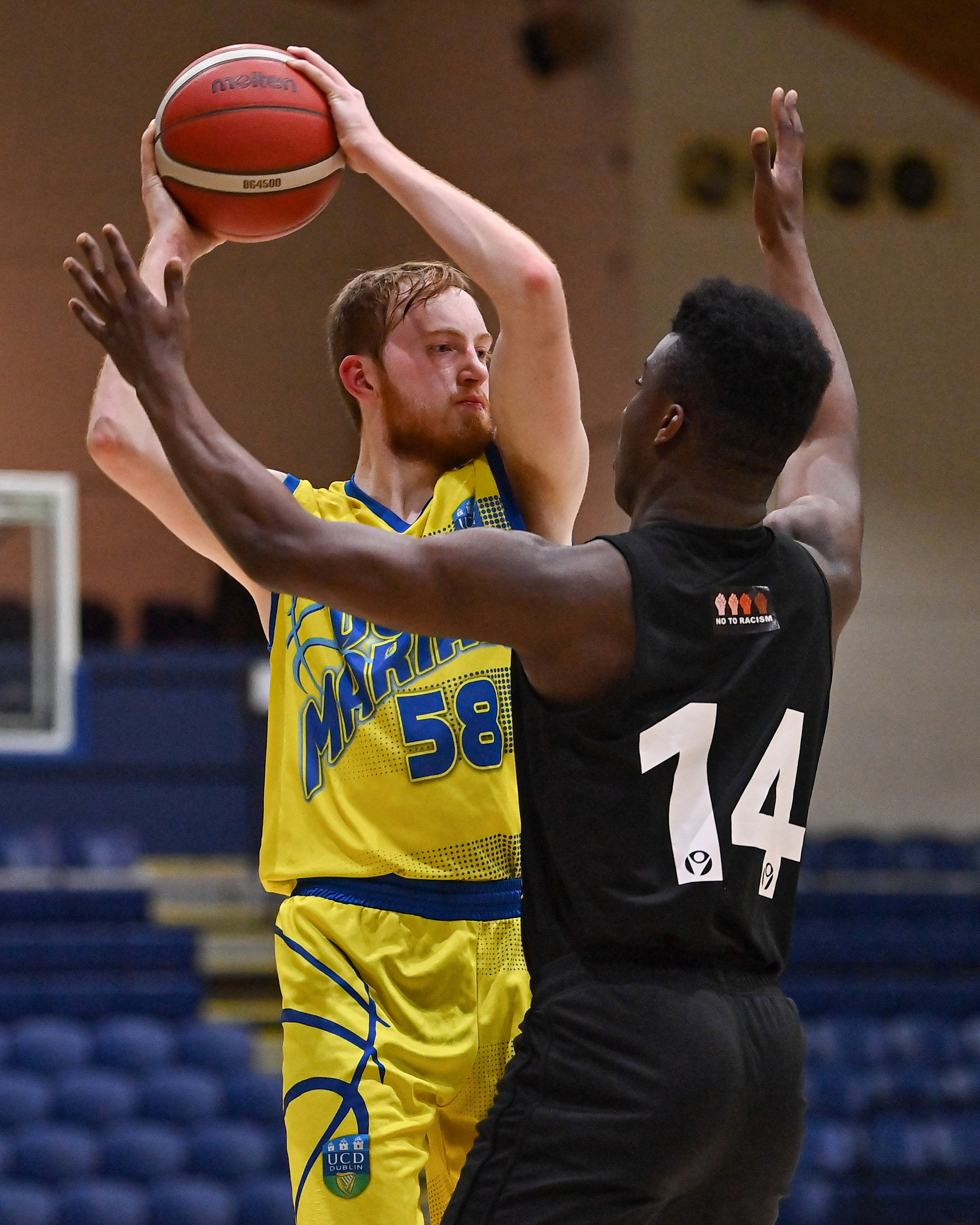 UCD Marian made an electric start to the third quarter, threes from Conor Walsh and O'Reilly saw them 51-39 ahead two and a half minutes in. Quishs Ballincollig responded with a Doulana layup and a Rory O'Flynn three point jump shot to trail 51-44. Another Walsh three pointer, followed by a Saul Lysaght jump shot had UCD Marian 15 points clear, 65-50, with three minutes to go in the quarter. A couple of O'Flynn free throws stopped the UCD Marian run, however just after that a Paraic Moran three point jump shot and a Shane Morgan layup saw the Dublin side 18 points ahead, 70-52. A converted free throw each and it would be 71-53 at the end of the quarter.
With an 18 point deficit to claw back, Quishs Ballincollig needed to strike first and O'Flynn did so with a three. But layups from UCD Marian duo Eoin Fitzgerald and Sotiris Miltiadis made it 75-56, a 19-point margin. Quishs Ballincollig couldn't close the gap sufficiently after that, UCD Marian completing an 84-68 win.
"We've been so lucky that we've managed to get such a fine group of players together, some with us since they were 12 years of age, they're such a committed, terrific bunch." - Fran Ryan, UCD Marian head coach
Top three scorers:
Quishs Ballincollig - Sean O'Flynn (17), Colm Blount (14), Cillian O'Connell and Rory O'Flynn (both 11)
UCD Marian – Colm O'Reilly (20), Conor Walsh (12), Shane Morgan and Paraic Moran (both 11)
Quishs Ballincollig: Areminus Kremenskas, Rory O'Flynn, Dara McMahon, Jack Scannell, Cillian O'Connell, Sean O'Flynn (C), Sam O'Regan, Eoghan Carew, Donnacha Barry, Colm Blount, Issac Eroutteh, Brendan Doulana.
Head coach: Daniel O'Sullivan
UCD Marian: Luke Gilleran (C), Ronan Byrne, Colm O'Reilly, Paraic Moran, Sotiris Miltiadis, Sual Lysaght, Brand O'Hara Duggan, Conor Walsh, Tommy Coogan, Eoin Fitzgerald, Shane Morgan, Fergal Keane
Player/Coach: Fran Ryan