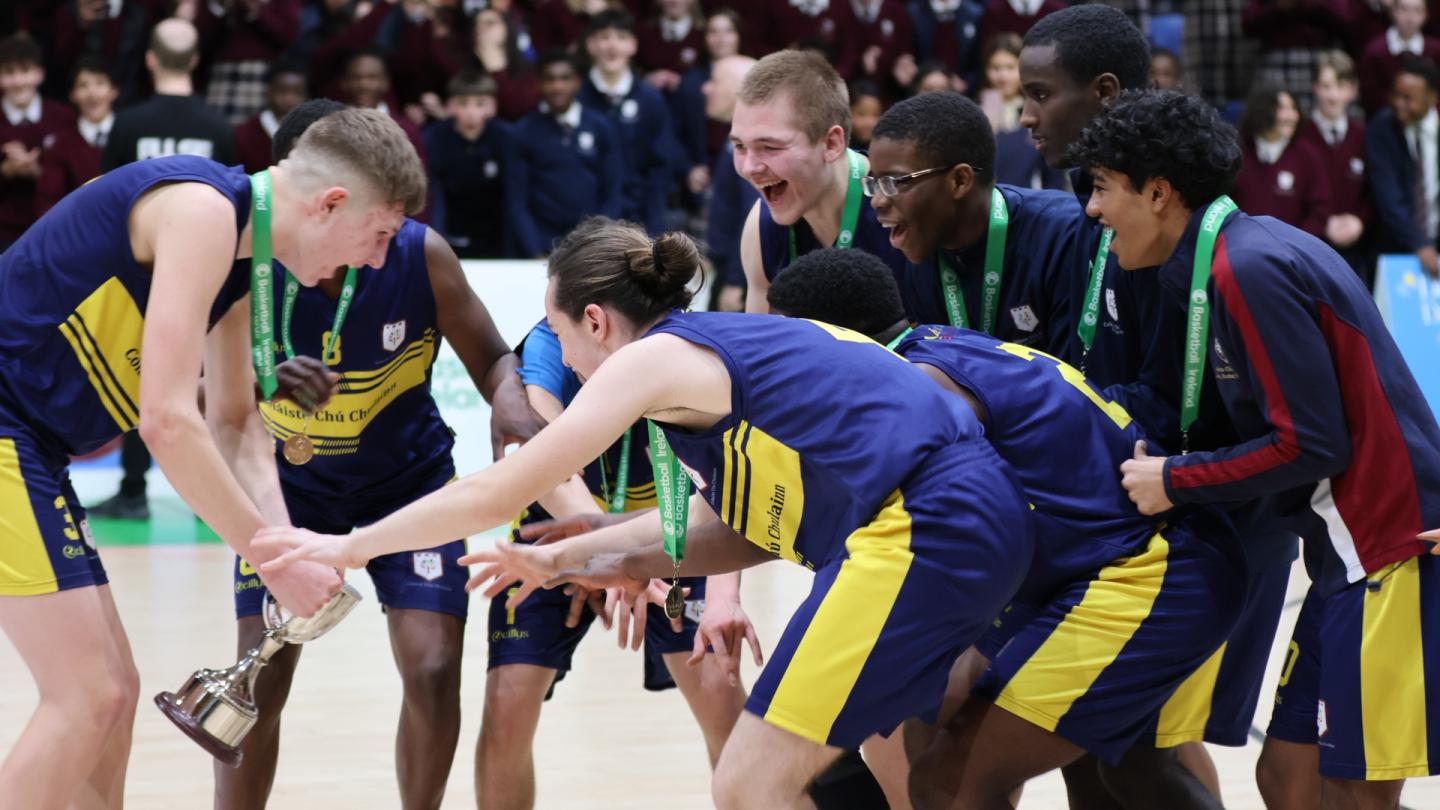 Feb 24 2023
Colaiste Chú Chulainn recovered from a half-time deficit to win U16 'C' Boys All-Ireland Schools League final
Colaiste Chú Chulainn recovered from a half-time deficit to narrowly beat St. Finians College Mullingar 52-46 in an entertaining encounter in the U16 'C' Boys All-Ireland Schools League final at the National Basketball Arena.
David Osagie took home the game MVP for an 18-point performance, which included some fiercely contested rebounds when the game was in the melting pot.
The game was played at a frenetic pace throughout the first, as the teams traded scores through Franek Chmielecki, Andrzej Volusko Opala, Ryan Bell and David Osagie. It wasn't until under two minutes to go in the quarter that Colaiste Chú Chulainn created some separation. Solal Parra dropping a perfect three-point shot, quickly followed by a David Osagie free-throw to leave an 11-7 gap in favour of the Dundalk school.
That advantage grew to five after some slick Kevin Mincans shooting grabbed him 5 points in the space of 18 seconds. Despite being 20-15 down with 90 seconds remaining in the half, St. Finian's College Mullingar would take an advantage back to the locker room. Rian Keaveney announcing himself to the contest with a brace of baskets before Volusko Opala nailed a three as time expired to send the National Basketball Arena to its feet. 22-20 at the interval.
A hotly contested third quarter proved to be the difference in the game. David Osagie imposed his will on the offensive and defensive glass, while also having his most productive scoring salvo, 8 points of his final total coming at this crucial juncture. He wasn't the only one making his shots though. Chmielecki and Fahd Nii-Adjei Monney also making big contributions, the latter coming up big with the final score of the quarter. St. Finians College were doing their best to stay in touch. Ryan Bell, John Akinnola, Volusko Opala and Keaveney all took turns to step up for their team and leave just six between the teams, 38-32 in favour of Colaiste Chú Chulainn as the final quarter began.
Consecutive three-point shots from Chmielecki and Parra to start the fourth quarter appeared to have put an end to the Westmeath schools resistance, but an unerring shooting performance from Ryan Bell reduced the gap back to five on two occasions. They couldn't get any closer though. Colaiste Chú Chulainn had the experience to keep the scoreboard moving in key moments, taking shots late in the shot clock, thus limiting the chance for a comeback by their opponents.
A Franeck Chmielecki free-throw as time expired icing on the cake in a famous win for the Louth school.
---
Quarter Scores:
Q1: 7-11
Q2: 15-9
Q3: 10-18
Q4: 14-14
---
Top Scorers:
St. Finians College Mullingar: Ryan Bell (20), Rian Keaveney (12), Volusko Opala (8)
Colaiste Chú Chulainn: David Osagie (18), Franek Chmielecki (15), Parra (10)
---
St. Finians College Mullingar:
Hugh Isdell, Alan Dzialo, Ciaran Connolly, Rian Keaveney, Alex Walsh, Andrzej Volusko Opala, Oisin Durnin, Ryan Bell, Simba Chidavaenzi, Karl Griffin, Omer Yousif, John Akinnola.
Coach: Billy Higgins
Ass. Coach: N/A
Colaiste Chú Chulainn:
Solal Parra, Fiyan Olaleye, Franek Chmielecki, Joan Duran, James Bisan, Bright N'Kongolo Kadima, David Osagie, Fahd Nii-Adjei Monney, Matthew Messin, Kevin Mincans, Mahdi Gahyr.
Coach: Kelvin Slowey
Ass. Coach: Aaron Murray