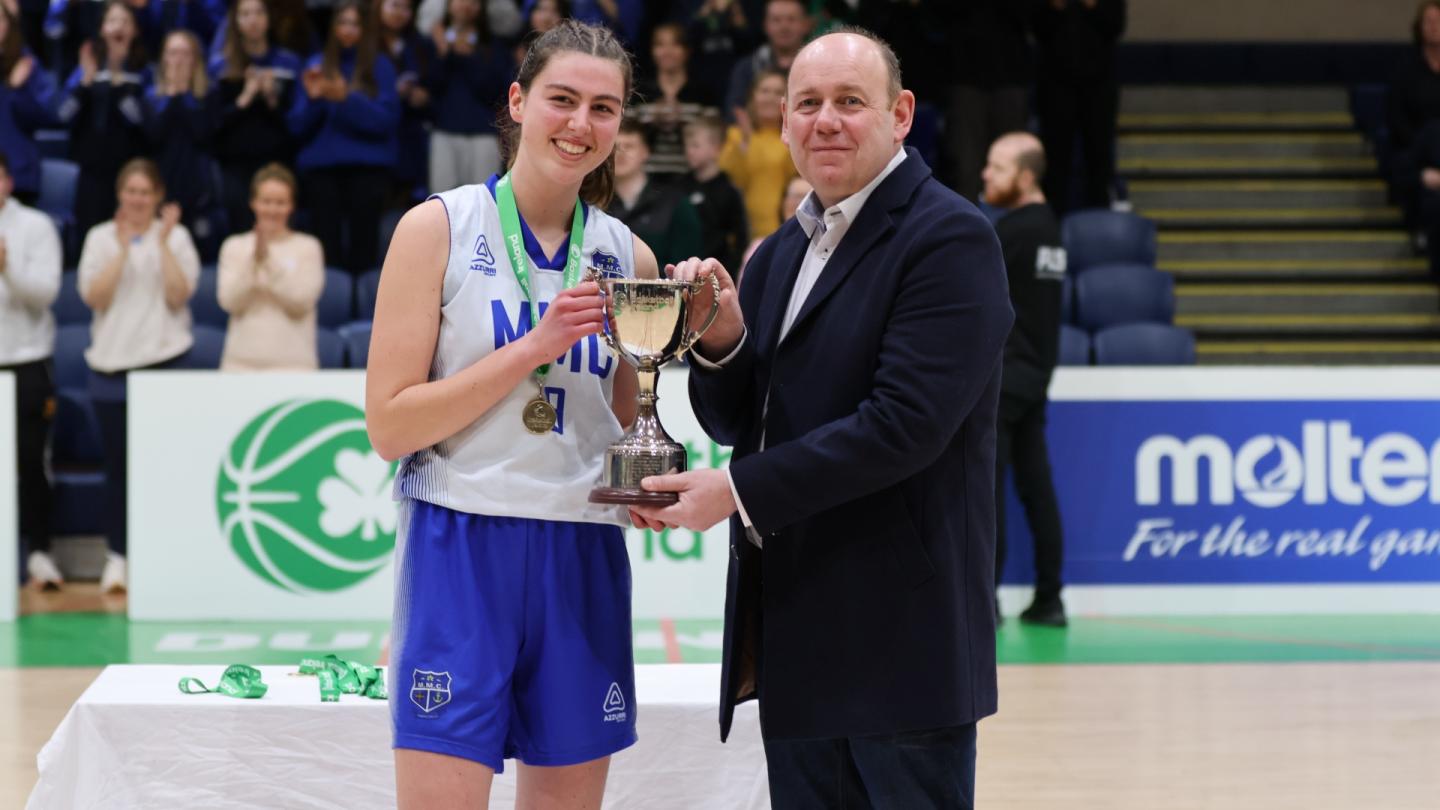 Feb 24 2023
Mount Mercy College bring U19 'B' Girls All-Ireland Schools League title back to Cork after defeating Castletroy College
Mount Mercy College Cork held off a late onslaught from Castletroy College to eke out a 35-28 win and take the U19 'B' Girls All-Ireland Schools League trophy back to the rebel county.
MVP Katie Claffey covered every inch of the National Basketball Arena floor, hitting a game high 18 points.
The opening quarter was a defensive tussle, with both teams evidently well organised by their coaches. Despite this, Melissa Do managed to find her range, nudging Castletroy College into an early 7-3 lead courtesy of back-to-back lay ups.
Mount Mercy shook off any cobwebs immediately in the second quarter, Katie Claffey, Chloe O'Meara and Abby Murphy all found space in the lane and suddenly the Cork school were 10-8 to the good. Castletroy College levelled proceedings moments later through Jessica O'Shea. She accounted for all three of her team's points in the second quarter, having earlier held her nerve from the line. This period belonged to Mount Mercy though, six more Katie Claffey points including a long range two at the buzzer gave them a 19-10 halftime lead.
Mount Mercy held their biggest advantage of the game in the third quarter. This time it was Emily Claffey who converted her own rebound to make it an 11 point contest, 25-14 with 3:28 left on the clock. That's after Denise Burlangdatan and O'Shea traded scores to the thunderous approval of the travelling support. Only three points separated the teams by the end of the quarter. Castletroy College found more hot hands in the form of Sorcha Cronin, Roisin Flaherty and Kirsty Cronin to bring them back to 25-22 down.
There was a nervous energy in the air by now and that intensified when Castletroy College brought the margin down to the minimum with another O'Shea free-throw and just 4:02 left in the game. This moment was also significant as it saw Mount Mercy captain Abby Murphy foul out of the game. What followed was a virtuoso of scoring from Claffey. Four baskets in succession for her team between 3:42 and 1:15, as Castletroy College tried in vain to keep tabs on her.
By the time she fouled out inside the last minute it was too late. Castletroy College did muster one further score through Sorcha Cronin but despite an incredibly valiant effort, Mount Mercy College won the day 35-28.
---
Quarter Scores:
Q1: 4-7
Q2: 15-3
Q3: 6-12
Q4: 10-6
---
Top Scorers:
Mount Mercy College: Katie Claffey (18), Abby Murphy (7), Denise Burlangdatan (4)
Castletroy College: Jessica O'Shea (13), Sorcha Cronin (6) Melissa Do (4)
---
Mount Mercy College:
Katie Claffey, Emily Claffey, Aoife Dollard, Denise Burlangdatan, Chloe O'Meara, Abby Murphy, Eve Bradley, Sadie Murphy, Celeste Harianto, Wicktoria Koziel.
Coach: Jim Hanley
Ass. Coach: Niamh Rafferty
Castletroy College:
Kirsty Cronin, Sorcha Cronin, Melissa Do, Nofeesat Muniru, Jessica O'Shea, Ailish Gallagher, Roisin Flaherty, Eabha Carmody, Grace Liston, Emeline O'Duffy.
Coach: Jack Coyne
Ass. Coach: N/A